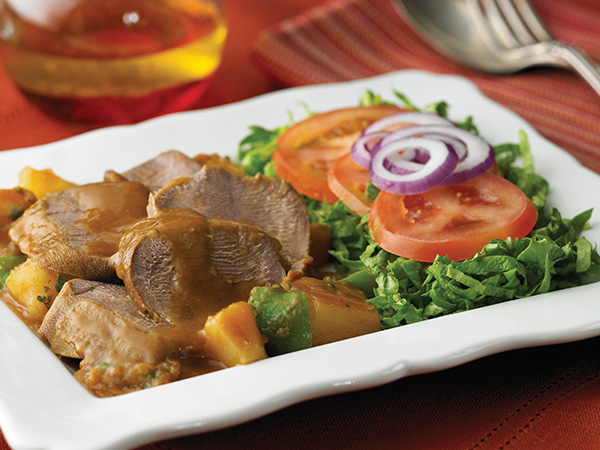 prep time: 00:30:00 cook time: 03:30:00
30 MIN

Prep Time

3-4 HRS

Cook Time

8

Servings
Ingredients
Rumba Meats® Beef Tongue (1 package)
1 tbsp salt
1/2 cup olive or vegetable oil
1 medium onion, chopped
2-3 garlic cloves, minced
1/2 green bell pepper, chopped
1 8-oz can tomato sauce
5 cups cooking liquid reserved from step 2 (add additional beef broth as needed to make up the volume)
1 tbsp fresh oregano leaves
1/2 tbsp fresh cilantro, minced
2 bay leaves
2 ají dulce peppers, seeded and chopped
2 medium russet potatoes, peeled and diced
Salt and pepper (to taste)
Beef broth, as needed
Instructions
Place tongue in a large pot and add enough water to cover by 1-inch. Add salt and bring to a boil. Reduce heat and simmer gently for 2 hours.

Remove tongue from the pot, cover loosely with plastic wrap and cool. Reserve cooking liquid.

When tongue is cool, remove the skin by splitting it on the underside and peeling it away.

Heat oil in a large, deep skillet or Dutch oven. Brown tongue lightly on all sides over medium heat. Remove and set aside. Add onions, garlic and peppers. Cook over medium heat until lightly browned.

Stir in tomato sauce, 5 cups reserved cooking liquid (add additional beef broth, if needed, to equal 5 cups), oregano, cilantro and bay leaves. Bring to a boil, reduce heat to a simmer. Add browned tongue to the pot. Simmer for 1 to 2 hours until tongue is tender and reaches an internal temperature of 160ºF.

Add potatoes and continue to simmer for 15 minutes until potatoes are tender.

Remove the tongue and set aside. Bring the sauce back to a boil and season with salt and pepper. Remove bay leaves.

Slice tongue and return to sauce. Keep warm.

Serve with rice, potatoes and green salad, if desired
FAQs
What is beef tongue called in Spanish?
Cow or beef tongue is called lengua in Spanish. This tasty variety meat has high-fat content, which makes it extra flavorful.
What does beef tongue taste like?
Most people think that beef tongue is chewy, but it only gets chewy if you don't cook it correctly. If you properly season and braise it, beef tongue is a tender and tasty protein. Generally, lengua tastes like other cuts of beef with a rich meaty flavor similar to beef barbacoa, but with a bit more texture. It makes for a wonderful stew meat in this family-favorite recipe.
What is beef tongue used for?
Find Your Faves
Get the cuts you crave at a store near you.