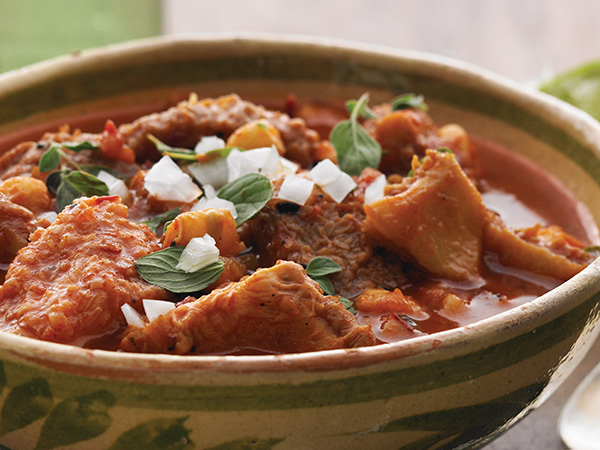 Ingredients
Rumba® Beef Scalded Tripe (2 lbs., cut in small squares)

1 – 1½ lbs beef feet, cut in 4 pieces

1 cup onions, large dice

3 cloves garlic, peeled and crushed

6 peppercorns

Salt (to taste)

4 qts water

1/2 cup hominy, canned

FOR SPICE MIX:

1 ancho chili, toasted, seeded, ribbed and soaked overnight

1 large tomato

1 garlic clove, peeled

FOR GARNISH:

Salt and pepper (to taste)

1 tsp oregano, fresh
Instructions
Combine the beef foot, tripe, onions, garlic, peppercorns, salt and water in a large stockpot. Bring to a boil and lower to a simmer.

Simmer the tripe and beef foot until tender, about 2 hours.

Meanwhile, combine the soaked ancho chili, tomato and garlic in a food processor or blender. Puree until smooth and reserve.

When the beef foot is tender, remove it from the pot and strip the off the meat. Chop the meat and return it to the pot.

Add the tomato mixture and hominy and continue to simmer for another 2 hours or until slightly thickened.

Add oregano and season to taste with salt and pepper.

Serve with soft corn tortillas, finely minced onions, chopped cilantro, lime wedges and additional oregano and chili powder.