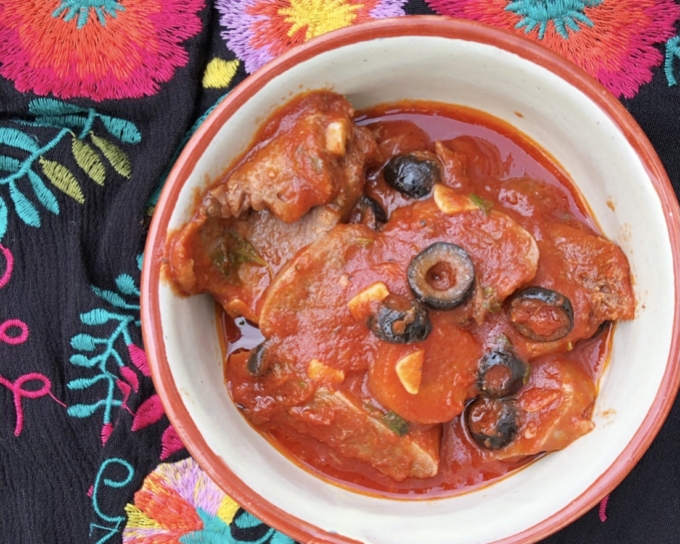 prep time: cook time:
20 minutes

Prep Time

3.5 - 4 hours

Cook Time

4

Servings
Hi, I'm Lynda Segovia Thorn, wife and mother. Originally from Texas, I now reside in California and teach SpEd students while blogging about food, familia and travel. By making my children the same meals my Mom made me, I can share our proud Mexican heritage with them. As the mother of multicultural kids, it's important to me that they know where they came from - Rumba Meats helps make that possible.
Garlic & Onions Beef Tongue
This dish is savory, with palate-pleasing flavors. A hearty meal that goes great with many sides.
Ingredients
Rumba Meats® Beef Tongue (1 package)
2 Large carrots, diced
4 Stalks of celery, diced
2 Large onions, quartered
12 Cloves of garlic
3 Bay leaves
2 teaspoons Ground coriander
2 teaspoons Ground black pepper
5 tablespoons Red wine vinegar
4.5 cups Water
Sauce Ingredients
4 tablespoons Extra virgin olive oil
4 Garlic cloves , minced
3 tablespoons Fresh marjoram, chopped
½ cup Pitted black olives, chopped
6 tablespoons Tomato paste
1.5 - 2.5 cups Leftover stock (liquid) from cooked tongue
Salt, to taste
Instructions
Place beef tongue in a crockpot with carrots, celery, onions, garlic, bay leaves, coriander, black pepper, red wine vinegar and water.
Put lid on crockpot.
Cook on high for 3½ to 4 hours until tender and internal temperature of tongue reaches 160°F.
Remove tongue from crockpot, reserving left-over stock for sauce.
After tongue cools, peel off thick skin and discard. Slice tongue into medallions and set aside.
Sauce
Heat oil in a sauté pan over medium heat. Add garlic and marjoram and sauté briefly until garlic is tender.
Stir in tomato paste and olives. Add tongue slices to pan.
Add 1½ cups reserved stock from crockpot. Simmer on low heat for 15 to 20 minutes. Add additional stock, as needed, to thin sauce.
Add salt to taste. Your dish is now ready!
Find Your Faves
Get the cuts you crave at a store near you.