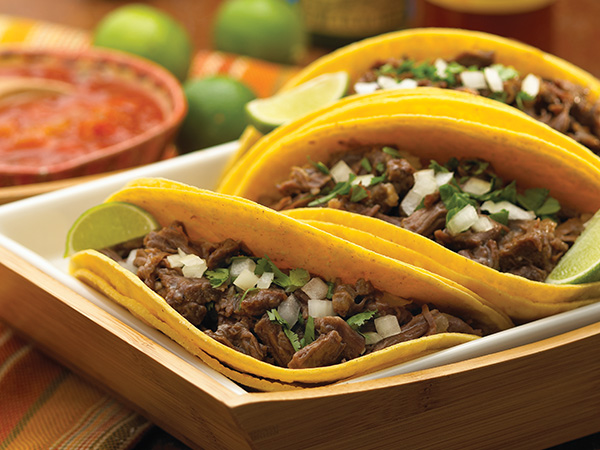 prep time: 00:15:00 cook time: 02:00:00
15 MIN

Prep Time

2-3 HRS

Cook Time

8

Servings
Ingredients
Rumba Meats® Beef Cheek Meat (4 pounds)
1 tablespoon ground cumin
1/2 cup red wine vinegar
1 large onion, chopped
1 qt low-sodium beef broth or water
1 tbsp whole black peppercorns
2 bay leaves
1 whole garlic bulb, split in half crosswise
1 tbsp salt
Instructions
Combine all ingredients in a large pot. Add cold water to cover the beef cheekmeat by 2-inches. Bring to a boil, reduce heat and gently simmer for 2 to 3 hours until very tender and cheekmeat reaches an internal temperature of 160ºF. Skim any fat or foam from the liquid often throughout the cooking process.

When the meat is tender, remove from cooking liquid. Strain and reserve the broth for another use. Shred cheekmeat with 2 forks.

Serve barbacoa as a filling for tacos, tostadas or over rice topped with minced onion, chopped cilantro, lime juice, salsa or tomato sauce, if desired.
Find Your Faves
Get the cuts you crave at a store near you.