Guiso with Beef Tongue (Meal Prep Dinner)
Looking for a quick South American escape? Use Make-Ahead Beef Tongue and Beef Broth as meal prep for Latin American guiso. Heat thawed tongue and base with green chile sauce, cooked yuca and potatoes and seasonings for an easy weeknight meal.

Featuring:
Rumba Meats® Beef Tongue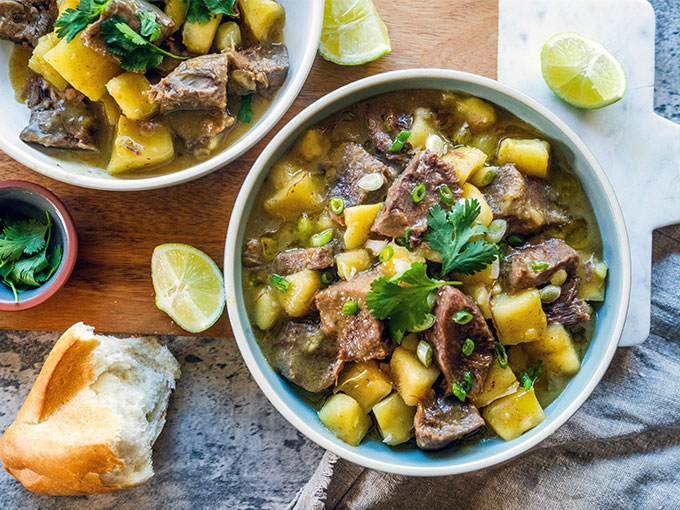 prep time: cook time:
10 MIN

Prep Time

1 HR 45 MIN

Cook Time

8

Servings
Ingredients
For Prep-Ahead Beef Tongue and Beef Broth:
Rumba® Beef Tongue (1 package, about 3 pounds)
½ white onion
4 cloves garlic
1 tablespoon salt
3 cups beef bone broth or water
For Guiso with Beef Tongue:
1 (18-ounce) package frozen yuca, thawed
1 (16-ounce package) frozen pre-cut russet potatoes
2 cups roasted green chile sauce
Prep-ahead Beef Broth (see recipe above)
2 teaspoons ground cumin
1 chicken bouillon cube (optional)
Prep-Ahead Beef Tongue (see recipe above)
Garnishes: chopped cilantro, lime wedges, and chopped green onions
Recommend side: crusty bolillo rolls
Instructions
Begin making the Prep-Ahead Beef Tongue and Beef Broth. Place beef tongue in instant pot. Add onion, garlic, salt, and beef bone broth.

Lock pressure cooker lid. Select pressure cooker setting and cook for 75 minutes on high pressure with full natural release or until tongue is tender and reaches an internal temperature of 160ºF.

Remove tongue to cool. Strain broth into a container, cool, cover tightly. Peel tongue, trim and slice into bite size pieces. Transfer to zip lock bag and seal.

Freeze beef tongue and beef broth for up to 3 months or refrigerate for up to 3 days.

When you're ready to make the Guiso with Beef Tongue, slice yuca into bite size pieces.

Combine in stew pot with potatoes, green chile sauce, Prep-Ahead Beef Broth, cumin, and bouillon cube.

Cover and bring to a boil, reduce heat, partially cover, and simmer for 20 minutes or until potatoes and yuca are tender.

Stir in Prep-Ahead Beef Tongue and simmer for 10 minutes until meat is fully heated and stew is steaming hot.

Garnish stew with cilantro, fresh lime wedges and green onions. Serve with crusty bolillo rolls, if desired.
Find Your Faves
Get the cuts you crave at a store near you.