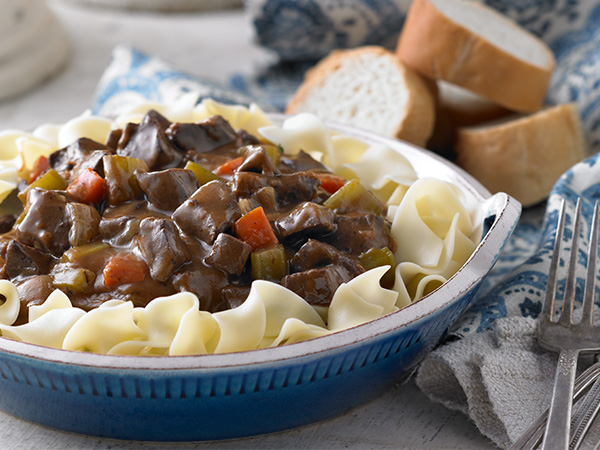 prep time: 00:40:00 cook time: 03:00:00
40 MIN

Prep Time

3 HRS

Cook Time

4-6

Servings
Ingredients
Rumba Meats® Beef Heart (1 package, cut into cubes)
2 tbsp vegetable oil
Mirepoix: 1 cup chopped onion, ½ cup chopped carrots, ½ cup chopped celery
¼ cup tomato paste
½ cup plus 2 tablespoons flour
1 cup red wine
1-quart beef stock, divided
5 sprigs thyme
2 bay leaves
Kosher salt & black pepper, as needed
Instructions
Slice beef heart into cubes. Season heart with salt and pepper.

Heat oil in a pan over medium-high heat. Add cubed heart and sear meat, stirring frequently. Remove heart from pan and set aside.

Stir in mirepoix ingredients and saute over medium-low heat until tender. Add tomato paste and cook until aromatic and brick red.

Add red wine and simmer until liquid is reduced to about ¼ of the original volume.

In a small bowl, combine flour and remaining 1 cup beef stock and whisk to blend. Add to pan with remaining beef broth and stir to blend. Add seared heart cubes, thyme and bay leaves. Bring to a simmer, cover and cook for 2½ hours until tender and heart reaches an internal temperature of 160ºF.

Serve with buttered egg noodles or mashed potatoes, if desired.
Find Your Faves
Get the cuts you crave at a store near you.