Abuela's Oxtail Stew
This delicious estofado is packed with unforgettable beef flavor, veggies, spices and a dash of cariño. Try it and you see why this traditional recipe is worthy of any fiesta.
Featuring:
Rumba Meats® Beef Oxtails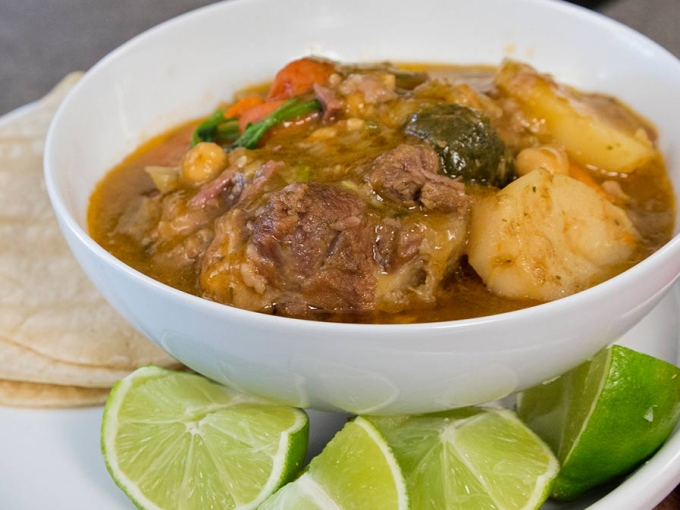 prep time: 00:30:00 cook time: 03:30:00
30 MIN

Prep Time

3.5 HRS

Cook Time

10

Servings
Ingredients
Rumba Meats® Beef Oxtails (3 pounds)
2 zucchinis, sliced
2 carrots, sliced
2 potatoes, cut in large pieces
1 (16 ounce) can Garbanzo beans
1 yuca, peeled, sliced (optional)
½ large white onion, chopped
4 tablespoons chopped cilantro
3 garlic cloves, chopped
1 small diced tomato
2 bay leaves
1 teaspoon ground cumin
3 tablespoons El Pato Salsa
1 tablespoon oil
Salt, to taste
Instructions
Heat oil in a stockpot on low heat. Add onions and garlic. Saute for 5 minutes, stirring occasionally. Stir in cilantro and tomato and cook over low heat for 3 to 5 minutes.

Add cumin, bay leaves and El Pato Salsa and simmer over low heat for 10 minutes, stirring frequently.

Add the beef oxtails, stir to blend, cover and simmer for 10 minutes over low heat. Add 8 cups water and salt.

Cook for 1½ hours, adding 2 cups additional water, if needed, until oxtails are tender and reach an internal temperature of 160ºF.

Add yuca and simmer for 10 minutes. Add zucchini, carrots, potatoes and garbanzo beans. Cook for 20 minute or until vegetables are tender.
Find Your Faves
Get the cuts you crave at a store near you.