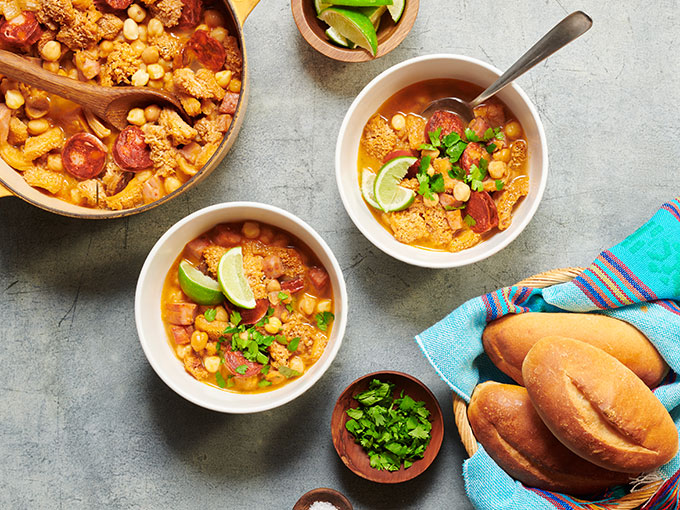 prep time: cook time:
5 MIN

Prep Time

20 MIN

Cook Time

6

Servings
Ingredients
1 tablespoon vegetable oil

1 white onion, chopped

2 chorizo sausage links (about 6 ounces), sliced

4 ounces (about 1 cup) cubed ham pieces

1 tablespoon ground chile powder

2 (15.5-ounce) cans garbanzo beans, drained

Prep-Ahead Spanish Tripe Stew Base, thawed (see recipe below)


Garnishes: chopped cilantro, and lime wedges

Recommend side: warm bolillo bread

Prep-Ahead Spanish Tripe Stew Base:

Instructions
To make the Prep-Ahead Spanish Tripe Stew, rinse beef tripe under cold running water. Trim and cut into spoon-size pieces with kitchen shears.

Combine tripe, beef marrow bones, onion, garlic, salt and water in instant pot.

Lock pressure cooker. Select pressure cooker setting and cook for 60 minutes on high pressure with full natural release or until tripe is tender and reaches an internal temperature of 160ºF.

Cool. Cover tightly and freeze for up to 3 months or refrigerate for up to 3 days.

Heat oil in a heavy skillet. Add onions, chorizo, ham and chile powder. Sauté over medium heat for 5 minutes, stirring frequently until onions are cooked.

Add garbanzo beans and thawed Spanish Tripe Stew Base. Simmer over medium heat for 15 minutes, stirring occasionally until stew is fully heated. Taste and adjust seasoning, if needed.

Top stew with cilantro and fresh lime. Serve with warm bolillo bread, if desired.
Find Your Faves
Get the cuts you crave at a store near you.