Back to all recipes
Pressure Cooker Menudo
prep time: | cook time:
Prep Time: 30-45 minutes | Cook Time: 1½-2 hours | Serves: 8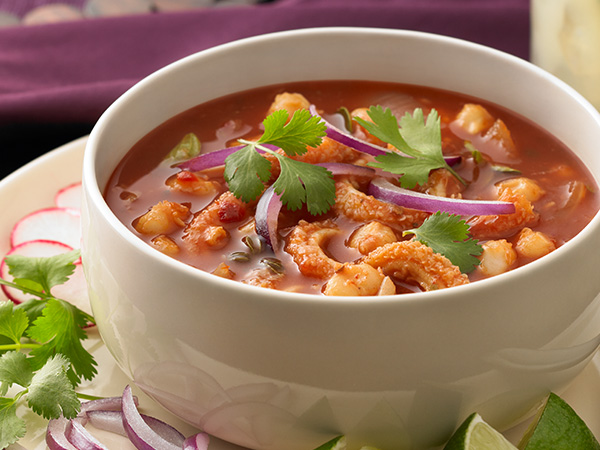 Ingredients
Rumba® Beef Scalded Tripe (2 lbs.)

1 lb. Rumba® pork neckbone

2 Rumba® pork split front feet

2 epazote sprigs (mint and a lemon skin may be substituted)

1 bay leaf

4 garlic cloves

10 peppercorns

1/2 tablespoon oregano

1 tablespoon salt

1 dry chili ancho, without vein and seeds (add an additional chili for extra spice, if desired)

1/8 teaspoon ground nutmeg, fresh

1 onion, yellow or white

3 qts water (enough to cover ingredients, plus 2 inches)

4 tablespoons oil

4 garlic cloves, chopped

1 onion, yellow or white, chopped

2 tomatoes (approx. 1/2 lb)

2 cups white hominy

1 tablespoon corn starch, if needed

1/2 cup vinegar, optional
Instructions
Rinse meats, cut tripe into bite size pieces, cut feet into quarters, cut neckbones into chunks.

Using a pressure cooker at high heat, add meats, epazote, bay leaf, cloves, peppercorn, oregano, chilli ancho, nutmeg, onion (cut in quarters), salt and water.

With lid off, bring to a boil then reduce heat. Skim any fat and foam. Stir carefully until no foam is produced. Remove and put chilli ancho aside once soft. NOTE: If cooking on stovetop, follow the same directions: Bring water to a boil and lower heat. Simmer for 2 to 3 hours until meat is tender. Skip to step 6.

Lock pressure cooker lid (raising the pressure), then reduce heat to as low as possible to maintain a constant pressure. Cook for 1 hour.

Remove pressure cooker from heat and let it release all the pressure (approximately 15 minutes).

In a saucepan, heat oil and sauté garlic and onion, add tomatoes last. Mix sautéed ingredients with chilli ancho in a blender. Add the mix to pressure cooker (or stovetop pot) and stir.

Add additional spice or salt if desired.

Add the hominy.

If needed, dissolve a tablespoon of cornstarch into the broth and simmer for a few more minutes to thicken. OPTIONAL: Add vinegar for a more tart, pickled flavor and to reduce grease.

Serve with wedges of lime, chopped onions and corn tortillas.