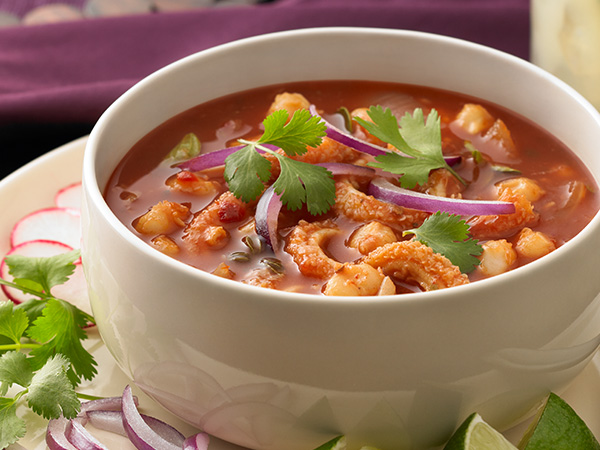 prep time: 00:45:00 cook time: 02:00:00
45 MIN

Prep Time

2 HRS

Cook Time

8

Servings
Ingredients
Rumba Meats® Beef Scalded Tripe (1 package)
1-pound Rumba® Beef Neck Bones
2 Rumba® Beef Feet
2 epazote sprigs (mint and a lemon skin may be substituted)
1 bay leaf
4 garlic cloves
10 peppercorns
1/2 tablespoon oregano
1 tablespoon salt
1 dry chili ancho, without vein and seeds (add an additional chili for extra spice, if desired)
1/8 teaspoon ground nutmeg, fresh
1 onion, yellow or white, quartered
3 qts water (enough to cover ingredients, plus 2 inches)
4 tablespoons oil
4 garlic cloves, chopped
1 onion, yellow or white, chopped
2 tomatoes (approx. 1/2 lb), chopped
2 cups white hominy
1 tablespoon corn starch, if needed
1/2 cup vinegar, optional
Salt and pepper, as needed
Instructions
Rinse beef scalded tripe, beef neck bones and beef feet. Slice tripe into bite-size pieces, slice neck bones into chunks and slice beef feet into quarters.

Using a pressure cooker (such as an instant pot) at high heat, add meat, epazote, bay leaf, garlic, peppercorns, oregano, chili ancho, nutmeg, onion quarters, salt and water.

With lid off, bring to a boil then reduce heat. Skim any fat and foam. Stir carefully until no foam is produced. Once soft, remove chili ancho and set aside.

Lock pressure cooker lid (raising the pressure), then reduce heat to as low as possible to maintain a constant pressure. Cook for 1 hour until meat is tender and internal temperature reaches 160ºF.

Remove pressure cooker from heat and let it release all the pressure (approximately 15 minutes).

Note: If cooking on a stovetop, follow the same directions: Simmer in a stockpot for 2 to 3 hours until meat is tender and internal temperature reaches 160ºF. Once soft, remove chili ancho and set aside.

Meanwhile, in a saucepan, heat oil and sauté chopped garlic and chopped onions. Stir in tomatoes and saute briefly. Cool slightly. In a blender, combine sautéed ingredients and reserved chili ancho and puree until smooth. Add to cooked meat and stock in pressure cooker (or stovetop pot) and stir to blend.

Add hominy. Season with additional spice or salt, if desired. Simmer until fully heated.

If needed to thicken broth: Mix 1 tablespoon cornstarch with 1 tablespoon cold water. Add to simmering menudo and stir over medium-high heat until sauce thickens.

Add vinegar, if desired, for a tart, pickled flavor and to reduce greasiness.

Serve with wedges of lime, chopped onions and corn tortillas, if desired.
FAQs
How do you know when menudo is done?
The primary ingredient in menudo is beef tripe, a traditional variety meat that comes from the cow's stomach. Like other meats, tripe is ready to eat after it's cooked to an internal temperature of 160 degrees Fahrenheit.
For the best menudo, tripe is slow simmered in stock with garlic, onion, and spices for hours until it is tender and fully cooked. Once you've removed the pressure cooker from heat and it has released all the pressure, add remaining menudo ingredients and simmer briefly until fully heated and tripe has a tender, slightly chewy texture.
How long do you cook menudo in a pressure cooker?
Follow our recipe directions for the best results when preparing menudo in a pressure cooker. Our pressure cooker menudo takes about an hour to cook on low heat after first simmering tripe for 15 minutes and skimming to remove foam and fat. While menudo is traditionally slow cooked on a stovetop for 2 to 3 hours, we love the convenience of pressure cooker preparation for quick and easy menudo filled with traditional flavor.
What is the difference between Pozole and Menudo?
Menudo and pozole are both traditional Mexican dishes that contain hominy (coarsely ground corn). However, menudo and pozole use different cuts of beef. Menudo is traditionally made with tripe, while pozole can be prepared with a variety of beef cuts such as beef cross-cut hind shanks.
Find Your Faves
Get the cuts you crave at a store near you.