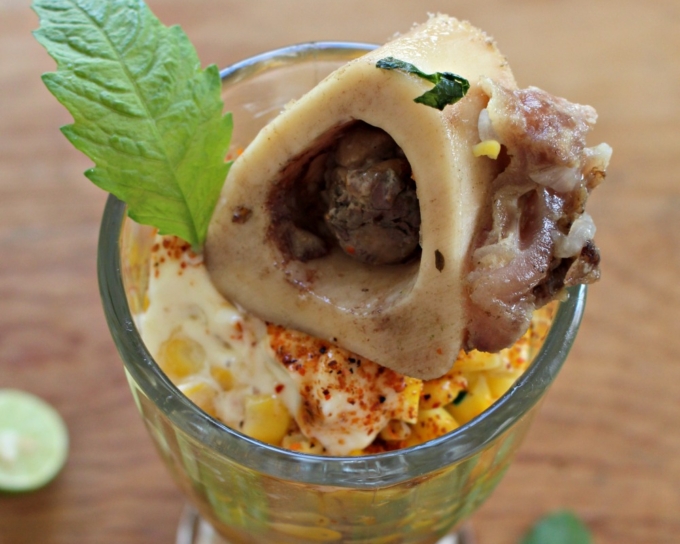 prep time: cook time:
15 minutes

Prep Time

30 minutes

Cook Time

6-8

Servings
I create easy and authentic Mexican recipes for the busy home cook In Mama Maggie's Kitchen. I was born in the US, but since then, I have lived on and off in Mexico in different parts of the Mexican Republic. Today, I am blessed to live close to the border. It allows me to truly grasp the flavors of my family's beloved homeland which I bring to you in my dishes.
Ingredients
Rumba Meats® Beef Marrow Bones (2 packages)
6-8 Rumba Meats Beef Marrow Bones
1 sprig epazote + 4 chopped epazote leaves
2 garlic cloves
½ onion + ½ diced onion (divided)
6 cups of water
½ teaspoon ground black pepper
1 teaspoon beef bouillon (can also use chicken bouillon)
½ teaspoon oregano
4 tablespoons butter
2 cups whole kernel corn
½ cup mayonnaise
Juice of 4 limes
Salt to taste
Chili powder to taste
Queso Cotija (optional)
Instructions
In a large pot, add beef marrow bones, epazote sprig, garlic, and ½ onion. Add water, black pepper, bouillon, and oregano. Cover and cook for 20 minutes until marrow bones are tender and internal temperature reaches 160ºF. Remove marrow bones and set aside. Stain bone broth and set aside.
In a separate pot, add butter and ½ cup diced onion and saute over medium-low heat until onion is translucent, stirring frequently.
Add chopped epazote leaves and corn. Cook for 2 minutes, stirring frequently.
Add cooked beef marrow bones to pan. Ladle 1½ to 2 cups bone broth into pot. (Do not make the corn mixture too soupy, it should have a chunky texture.) Cook uncovered for 10 minutes. If mixture looks dry, add more bone broth.
Season to taste.
To prepare each serving: In a cup, add layers of corn mixture, mayonnaise, lime juice, chili powder, marrow bones and cotija. Repeat depending on the depth of the cup, finishing the top layer with a beef marrow bone.
Find Your Faves
Get the cuts you crave at a store near you.