Roasted Marrow Bones with Chimichurri
This classic tapas for entertaining features the rich flavor of beefy roasted bone marrow butter balanced with a bright bold chimichurri sauce. Arrange grilled baguette slices with roasted marrow bones, sea salt, and chimichurri sauce on serving board with individual plates and narrow spoons for scooping. To serve, spread roasted marrow bone butter on toast, top with a pinch of sea salt and chimichurri sauce. Buen provecho!
Featuring:
Rumba Meats® Beef Marrow Bones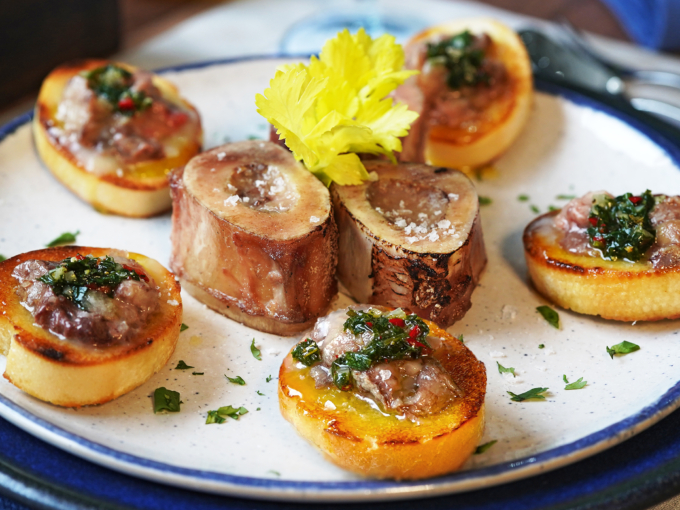 prep time: 00:20:00 cook time: 00:15:00
20 MIN

Prep Time

15 MIN

Cook Time

4

Servings
Ingredients
Rumba Meats® Beef Marrow Bones (1 package)
½ cup fine chopped flat leaf parsley
3 garlic cloves, fine chopped
6 tablespoons olive oil
¼ cup fine chopped red chili pepper (such as jalapeno or Fresno)
2 tablespoons red wine vinegar
1 tablespoon lemon juice
1 teaspoon kosher salt
½ teaspoon dried Mexican oregano
½ teaspoon black pepper
Coarse sea salt for sprinkling
12 (½ -inch thick) baguette slices, brushed lightly with olive oil, grilled or toasted Coarse sea salt for sprinkling
Instructions
Combine parsley, garlic, olive oil, red pepper, vinegar, lemon juice, salt, oregano and black pepper in a bowl and stir to blend. Chimichurri can be made ahead to meld flavors.

Preheat oven to 450°F.

Place marrow bones upright (with wide side down) on a baking sheet lined with foil. Roast uncovered for about 15 minutes or until marrow is soft and bubbly and starting to separate from the bone. Remove from oven; sprinkle sea salt over the top.

Transfer to serving plate accompanied with toasted baguette slices, chimichurri sauce, sea salt and marrow spoons (or narrow teaspoons) for scooping.

To serve, scoop out marrow and spread on toast, sprinkle with sea salt and top with chimichurri sauce.
Find Your Faves
Get the cuts you crave at a store near you.