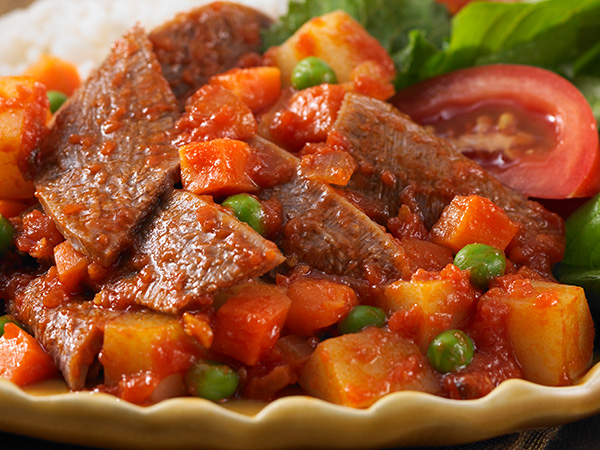 prep time: 00:45:00 cook time: 04:00:00
45 MIN

Prep Time

4-5 HRS

Cook Time

4-6

Servings
Ingredients
Rumba Meats® Beef Tongue (3-4 pounds)
Small cheesecloth bag or tea ball with 2 bay leaves and 2 tablespoons each peppercorns and salt
1/4 cup vinegar
Olive oil (as needed)
1 cup onions, coarsely chopped
3 cups crushed tomatoes in juice
1 tbsp garlic, minced
1 bay leaf
Salt and pepper to taste
1 cup frozen peas and carrots, thawed
1 cup potato, peeled, diced and parboiled
1/2 cup pickled serrano or jalapeño peppers
1 cup finely chopped red bell pepper
Instructions
Rinse beef tongue in cold running water. Place in a large pot with 2 quarts water, spice bag and vinegar. Simmer gently for 3 to 4 hours until tongue is fork tender at the tip and reaches an internal temperature of 160ºF.

Remove tongue from pot and place in an ice bath to cool. Reserve cooking broth. Peel and discard the skin. Thin slice tongue, add some of the cooking broth to keep slices moist. Set aside.

Prepare the tomato sauce: Heat olive oil in a medium saucepan. Add onions and cook over medium-low heat until tender and golden, about 2 to 3 minutes. Add garlic and continue to cook for an additional 30 to 45 seconds. Stir in tomatoes and bay leaf. Simmer, covered, for about 10 minutes or until slightly thickened. Season to taste with salt and pepper

Remove tongue slices from the liquid and arrange in a baking dish. Surround with carrots, peas and potatoes. Top evenly with tomato sauce. Cover and bake in a preheated oven at 325°F for about 20 minutes or until tomatoes are fully cooked.

Serve with pickled peppers on the side.

Serve with steamed white rice, green salad and crusty bread, if desired.
Find Your Faves
Get the cuts you crave at a store near you.