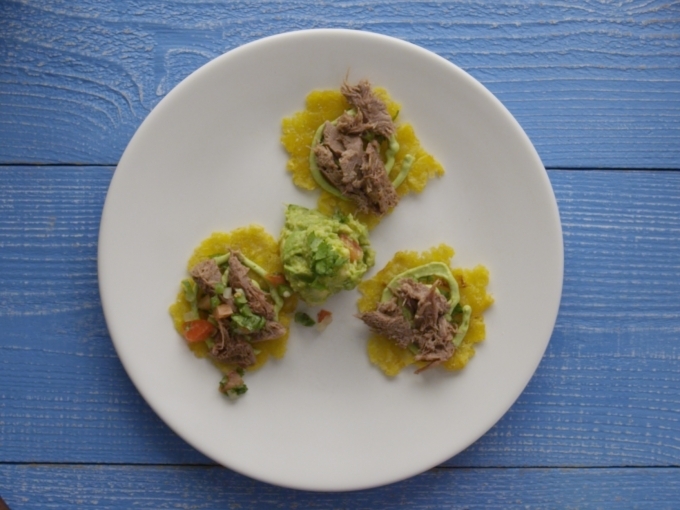 prep time: 00:20:00 cook time: 03:30:00
20 MIN

Prep Time

3.5 HRS

Cook Time

6-8

Servings
Ingredients
Rumba Meats® Beef Tongue (1 package)
For the Guasacaca:
2 ripe Haas avocados, seeded and roughly diced
1 small onion, quartered
1 small green bell pepper, stemmed, seeded, and roughly chopped
1 medium jalapeño, stemmed, seeded, and roughly chopped (optional)
2 medium cloves garlic
1/2 cup packed roughly chopped fresh cilantro leaves
1/4 cup packed roughly chopped fresh parsley leaves
1/4 cup white vinegar
1 tablespoon lime juice from 1 lime
1/3 cup olive oil
Kosher salt and freshly ground black pepper
For the Steak:
1 onion
2 cloves of garlic
2 teaspoons of salt
For the Tostones:
4 green plantains, peeled and cut into 2-inch pieces
Vegetable oil for frying
Kosher salt, to taste
Instructions
Combine beef tongue, salt, garlic and onion in a slow cooker. Cook on low heat for 3 to 3½ hours until tongue is soft and internal temperature reaches 160ºF. Once tongue is done, remove the skin. Slice tongue and shred or chop meat into small pieces. Set aside.

While tongue is cooking make guasacaca: Place avocados, onion, bell pepper, jalapeño, garlic, cilantro, parsley, vinegar, and lime juice in the bowl of a food processor fitted with a steel blade. Pulse until finely chopped, stopping to scrape down sides of bowl as needed. With the motor running, drizzle in olive oil through the feed tube. Process until sauce is completely smooth. Season with salt and pepper to taste. Transfer to squeeze bottle, cover, and place in refrigerator until ready to use, up to 3 days.

To make tostones: In a cast iron skillet, add about ½-inch oil and heat to 375ºF over high heat. Place plantain pieces, standing upright, in oil and fry until light golden brown, about 3 minutes. Flip and fry the other side for 2 to 3 minutes until browned. Remove to a paper towel lined platter and drain. When cool enough to handle, about 1 minute, smash the plantains to about ¼-inch in height using a flat-bottomed plate or bowl. Heat oil to 375ºF. Working in batches, fry plantains for 1 minute on each side or until golden brown. Drain on paper towel-lined plate. Season with salt.

To serve, squeeze guasacaca over tostones. Top with tongue and serve immediately.
Find Your Faves
Get the cuts you crave at a store near you.