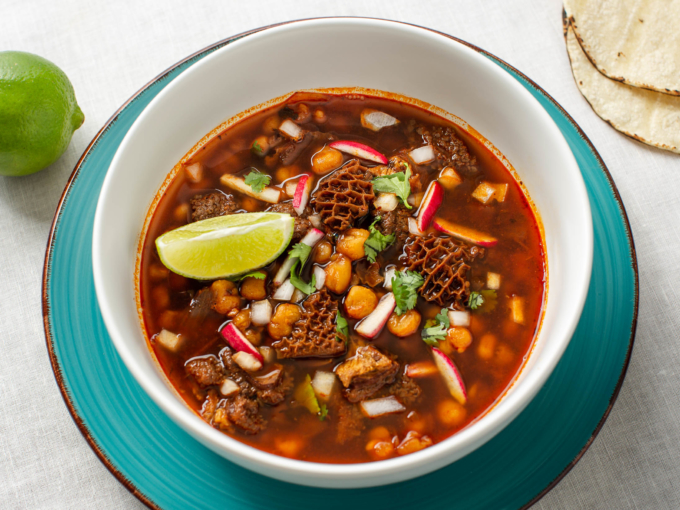 prep time: 00:25:00 cook time: 01:30:00
25 MIN

Prep Time

1.5 HRS

Cook Time

8

Servings
Ingredients
Rumba Meats® Beef Honeycomb Tripe (1 package)
¼ cup kosher salt
Water to cover
2 quarts of water (for richer, meatier flavor, use bone broth in place of water)
1 medium white onion, roughly chopped
2 tablespoons chopped garlic in water
½ cup Guajillo chili powder
2 teaspoons cumin
2 tablespoons kosher salt
1 tablespoon Mexican oregano
2 tablespoons black pepper
2 15½-ounce cans hominy, drained and rinsed
Garnishes for finished Menudo: diced onion, diced radish, lime wedges, chopped cilantro
Instructions
Place beef honeycomb tripe in a large pot; add ¼ cup salt and water to fully immerse tripe.

Bring to a boil and boil for 15 minutes.

Remove pot from stove and drain water. Remove any non-white bits. Rinse tripe with cold water and drain.

Add cleaned tripe pieces to an instant pot. Stir in water, onion, garlic, chili powder, cumin, 2 tablespoons salt, oregano, black pepper and hominy.

Cover and cook on soup/stew Normal setting for 1 hour, or until internal temperature reaches 160ºF and tripe is tender.

Serve immediately topped with fresh garnishes.
Find Your Faves
Get the cuts you crave at a store near you.