Menudo Verde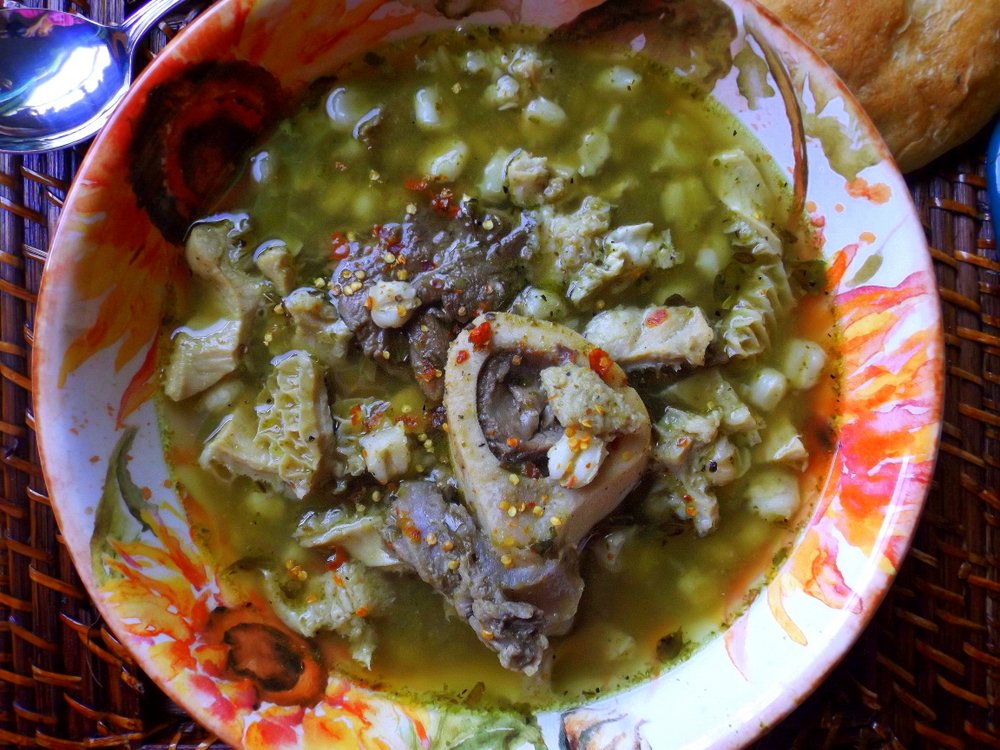 Today's blog post is possible thanks to Rumba Meats for putting out a quality product and making it available in my area.  (www.rumbameats.com) For many years when I first moved here, just finding fresh chile serrano or jalapeño was unheard of.  My Mom would send me care packages every 6 months or so. They were filled with tortillas, avocados, limes, chile serrano and a few other goodies that I loved. When I look back and think of the countless unselfish hours my Mom and Dad spent in the kitchen cooking. And not only did they do it at home, but for a few years we had a Mexican food business. But the most beautiful inspiration for all this mad cooking that I do, is my mami, Blanca Mendez Garcia. Both Dad and her always had a passion for the foods from Mexico. I can still remember the super early morning Menudo sessions. Mom slicing away, stainless steel pots banging together.  The aromas, lol! If you are unfamiliar with preparing menudo, well, it has it's own special aroma. With that said, I wouldn't have it any other way. With the proper washing and cooking, menudo is delicious! And waking up knowing we were going to have menudo that day. My dad, Ramiro, could not get to la panaderia fast enough for my liking, ha, ha, ha!  He would pick up fresh, hot bolillos or pan frances (French bread) as Mom called it. Perfect to serve with menudo. To say that my parents rubbed off on me would be putting it lightly. What a blessing.
Mom serving up a big Mexican-style bowl of chile rojo menudo. The bigger the bowl, the better.  It's not Mexican unless it was that big, lol!! Worked great for cereal on Saturday morning too, ha ha… Oh my goodness. A rare picture of my Mom with her hair down. She typically would wear it in a tight bun.
I was so thrilled to see more Rumba Meat products showing up in my area. For many years, I would have to wait to fly home to Texas or California just to have a real bowl of menudo. Not anymore! What a treat for me.
I say this all the time, but I really am on the fence when it comes to choosing between red and green chile. Why can't I just have both and be done with it? Lol!
I do not often get much of a choice when it comes to popular Mexican food ingredients, like maiz(hominy) for menudo or pozole. I was happy to find the maiz pozolero in a local market.
Directions
1. Place all of the washed poblanos, anahiem and jalapeños on a comal(griddle) and heat to medium. This is a low and slow roast, turning the peppers as needed. Once most of them have blistered and charred, place in a plastic bag to let steep and cool.
2. While the peppers are roastingslowly, slice the honeycomb and scalded tripe into bite size pieces. Place in colander and rinse well with cold water. Place in a large pot. Add 1/2 the onion, 1/2 the garlic and juice of 1 lemon. Cover genrously with water and heat to medium. When it comes to a boil, add salt to taste and reduce to a simmer. Cook partially covered, skimming off the foam on top, for 1 1/2 hours.
3. At the same time the tripe is cooking, add the beef shanks to a large dutch oven-style pot. Add the remaining 1/2 onion, garlic, 2 bay leaves and salt to taste. Fill pot 3/4 of the way with water and bring to a boil. Skim the foam off the top as needed, reduce heat slightly. Cook partially covered for 1  1/2 hours.
4. While the pots are simmering, prepare the roasted green chile sauce. Remove the stems, seeds and blistered skins from all of the peppers. Tranfer to the blender. Add 2 cups water, chicken bouillon, cumin and pepper. Blend on high until smooth and strain into a bowl using a wire mesh strainer. Set aside.
5. Once both the tripe and beef shanks have cooked for a good 90 minutes, using a slotted spoon, remove the onion, garlic and bay leaves from the beef shank pot. Using the slotted spoon, remove tripe from other pot and add it to the pot with beef shanks. Add 1 tablespoon oregano, strained chile sauce and maiz pozolero. Stir well to combine. Bring back up to a boil, reduce to a simmer. Cook partially cover for 1 1/2 to 2 more hours. Taste for salt. Garnish with your favorites. Yields up to 10 servings.
And no taditional Mexican soup can go without it's fresh garnishes!! The only thing missing this day was some fresh bolillo bread. The garnishes I like to have for Menudo are lemons, radishes, oregano, onions, chile verde(serrano or jalpeño), cilantro and chile piquin.
Adding the beef  hind shanks gave the menudo even more flavor. I do enjoy a big bowl of Caldo de Res (Mexican Beef Soup) any day of the week. This was a great combo!