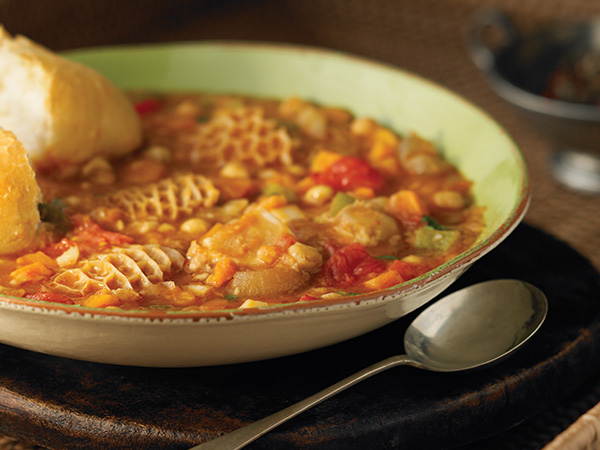 prep time: 00:30:00 cook time: 02:30:00
30 MIN

Prep Time

2-3 HRS

Cook Time

8

Servings
Ingredients
Rumba Meats® Beef Honeycomb Tripe (3 pounds, cut into 2-inch squares)
1 lb beef feet, quartered
4 lemons, juiced
2 qt low-sodium beef broth or water
1/2 lb taro root, yucca or yautía, diced
1/2 lb sweet potatoes or yams, diced
1/2 lb pumpkin, diced
1/2 lb boniato or ñame, diced
2/3 cup sofrito
1/2 cup tomato sauce
Salt and pepper (to taste)
Instructions
Cut beef honeycomb tripe into 2-inch squares. Toss the honeycomb tripe with lemon juice and place in a large soup pot. Add cold water to cover by 2 inches and bring to a boil. Simmer gently for 15 minutes. Drain tripe, rinse and add back to the pot.

Meanwhile, slice beef feet into quarters. Add to pot with honeycomb tripe. Add broth and enough cold water to cover by 2 inches. Bring to a boil, reduce heat and simmer honeycomb tripe and feet for 2 hours until tender and honeycomb tripe and beef feet reach an internal temperature of 160ºF.

Add diced vegetables, sofrito and tomato sauce. Continue simmering until vegetables are tender, about 20 minutes.

Season to taste with salt and pepper.

Serve with white rice, if desired.
Find Your Faves
Get the cuts you crave at a store near you.