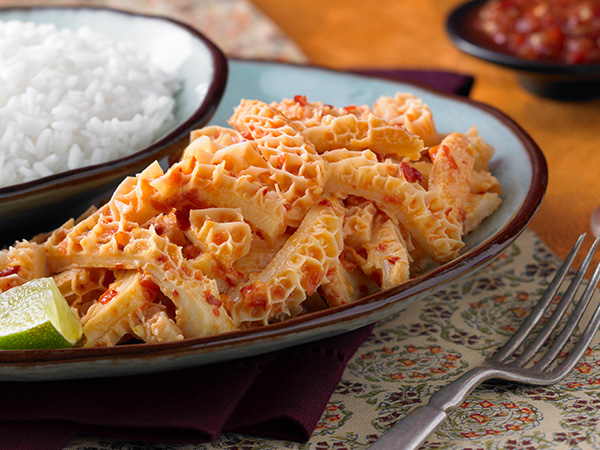 prep time: 00:30:00 cook time: 02:00:00
30 MIN

Prep Time

2 HRS

Cook Time

4-6

Servings
Ingredients
Rumba Meats® Beef Honeycomb Tripe (1 package)
5 garlic cloves, smashed
1 bunch of scallions, chopped
1 knob ginger, peeled and bruised
1 bunch of cilantro stems
2 tbsp canola oil
1 tbsp Garlic Chili Sambal Oelek Sauce
1 tbsp lime juice, fresh
1 tbsp sugar
1 quart water
1 cup sake or white wine
Instructions
Rinse honeycomb tripe in running fresh water.

Combine water, sake, garlic, scallion, ginger and cilantro. Bring to a simmer and add honeycomb tripe.

Simmer about 1 hour until honeycomb tripe is tender and reaches an internal temperature of 160ºF.

Remove honeycomb tripe from liquid and cool. Cut into stir-fry size strips.

In a skillet, heat oil on high heat. Add honeycomb tripe and stir-fry for 30 seconds, stirring constantly. Add garlic chili sauce, lime juice and sugar and stir to blend.

Serve with jasmine rice, if desired.
Find Your Faves
Get the cuts you crave at a store near you.