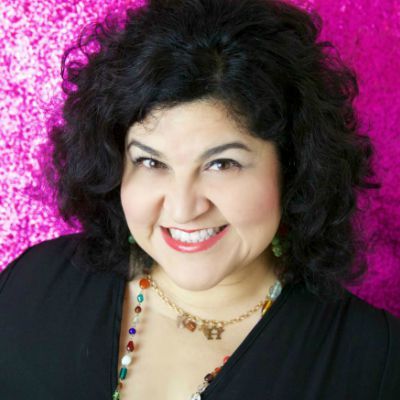 I'm artist and writer Kathy Cano-Murillo and I share articles about Latino-inspired crafts, Phoenix life, recipes, pop culture, travel, entrepreneurship and more! My goal is to spread positivity through creativity with my handmade goods, articles, books, product lines and workshops! I love working with Rumba Meats because they understand that it's not just about cooking and eating, it's about celebrating life through memorable experiences!
White Menudo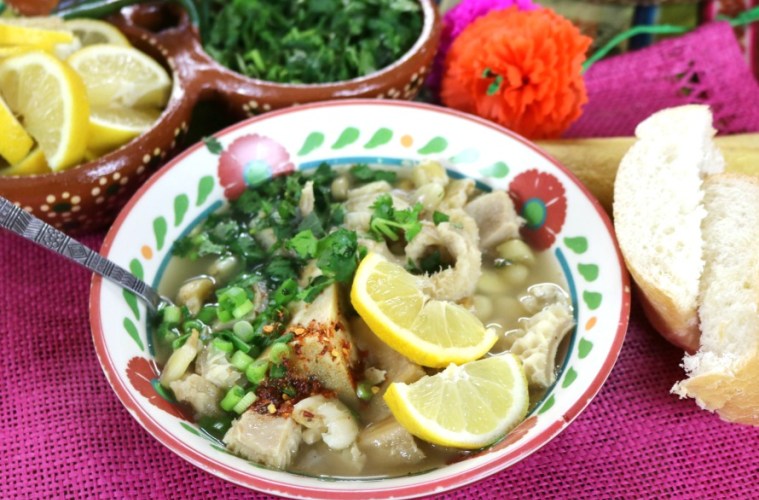 Here's a menudo recipe from my family. This is one of those emotional, sentimental dishes if you know what I mean…Aside from making tamales, my dad also loved to make his signature menudo every month or so all year round (tamales were during the holidays!).
I finally tackled his tamale recipe last year and next on my wish list? Menudo! I didn't think I'd master this one, I always thought of it above my culinary skill set. But you know, things happen for a reason! Rumba Meats contacted me about working on some recipes. Patrick shared the Oxtail stew recipe, so my turn came next. I saw the beef honeycomb tripe as an option and knew I had to accept the assignment on behalf of my dad!
We bought the beef tripe at my local Fry's store, but you can visit the Rumba Meats website to see where it is carried in your area. Then you can follow along with this menudo recipe!
My menudo story
OK, let me tell you my menudo story, because if you grew up in a Mexican household, chances are you have a menudo story too!
Intimidated by the tripe – or I should say the cleaning of it – I never helped my dad with this recipe. As soon as pulled it out of the butcher paper and strategically spread it out across the counter, us kids scattered to the family room. He slaved away in the kitchen for several hours until the yummy smell of his concoction permeated throughout, then we knew it was safe to go back in the kitchen.
That's around the time my mom started making the calls.
"Hi, it's Norma! Just calling to let you know David's menudo is done if you want to come over to eat!"
By early evening our house was filled with family and cousins, ready to slurp and savor the goodness he so tediously created. I pitched in to help my mom chop the green onions, lemons, and cilantro for the toppings.
Did I know what menudo was made of back then? Nope. Just a 'distinctive' type of meat and corn, of course, but that was about it. I didn't ask any questions, I just ate. I didn't care to know.
What I did know was my dad was a workaholic for our family. He clocked in long hours at the office, then came home and worked on cars in the garage. So the fact that he took a break to cook for us, well, that is what made his menudo so special.
Big bowlfuls of L-O-V-E.
When this Rumba Meats assignment came about, I called my Uncle Joe and he was kind enough to share his recipe with me. He swears my dad made it different, but after making this recipe, I swear it tastes just like Dad's!
In the video for this menudo recipe, I choked back tears when I took the first bite because so many happy memories of my childhood came rushing back. Just from one spoonful. I don't know what was more flavorful, that moment or the delicious menudo!
Directions
Cook the beef feet with garlic and onion for three hours on medium high.
Cut the honeycomb tripe in 1" squares using a sharp knife or brand new or sterilized shears.
Add the tripe to soup for another hour.
Wash the nixtamal until the water is clear, then add to the mixture and let cook another hour or longer – until the corn is soft.
Add salt and desired seasonings to taste.
Toppings: Chopped cilantro and green onion, lemon wedges, red chile peppers or hot sauce of choice.
Thank you so much to Rumba Meats for inviting me to participate in this campaign. Patrick and I had such a great time working on our recipes. From the shopping to research to taste tests, we learned so much and now have two new meals to add to our own family legacy! And special thanks to my Uncle Joe, whom I love so much! He was kind enough to share his recipe with me!
Okay, guys, what is your menudo story? Do you have one?
Ingredients
Rumba Meats® Beef Honeycomb Tripe (3 pounds)
3 pounds honeycomb tripe
1-1/2 pounds beef feet bone
1 onion
3-1/2 pounds nixtamal (corn), thoroughly washed
3 cloves garlic, diced
Salt and pepper, to taste
Menudo seasoning and pepper, optional
3 gallon pot
Recipe Notes
Garnish menudo with chopped cilantro, green onions, lemon wedges, red chile peppers or hot sauce of your choice.
Instructions
In a 3-gallon stockpot, add beef feet, onion, garlic and water to cover. Bring to a boil, reduce heat to medium-high and cook for 3 hours.
Using a sharp knife or kitchen shears, slice honeycomb tripe in 1-inch squares. Add tripe to stockpot and cook for 1 hour until beef feet and tripe are tender and internal temperature reaches 160ºF.
Wash the nixtamal until the water is clear, then add to soup and cook 1 hour or until corn is soft.
Add salt, pepper and menudo seasonings to taste.
Add salt and desired seasonings to taste.
Find Your Faves
Get the cuts you crave at a store near you.