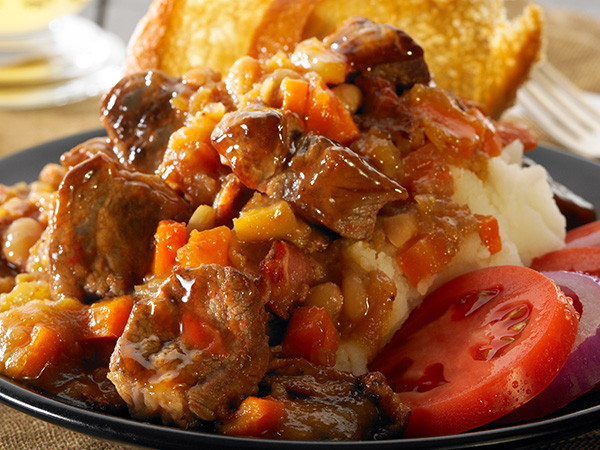 prep time: 00:30:00 cook time: 04:00:00
30 MIN

Prep Time

4-5 HRS

Cook Time

4

Servings
Ingredients
Rumba Meats® Beef Cross-Cut Hind Shank (2 lbs., cut into cubes)
Vegetable oil (as needed)
2 tbsp flour
Salt and pepper (to taste)
FOR STOCK:
1¼ cups canned, drained navy beans
1/2 cup carrots, diced
1/2 cup turnip, diced
1 cup onions, diced
1/2 cup tomatoes, peeled and chopped, or use canned crushed or diced
8 oz bacon, raw, diced
2 qts beef broth
Cheese cloth bag or tea ball containing: 1 tbsp peppercorns, 1 bay leaf and 2 garlic cloves, crushed
Instructions
Combine beans, carrots, turnips, onions, tomatoes, bacon, beef broth and a blend of peppercorns, bay leaf and garlic tied in a cheesecloth bag in a large stockpot. Bring to a boil, reduce heat and simmer for about 2 hours. Strain and save the stock. (This step can be done the day before and refrigerated.)

Cut beef hind shank into cubes. Season beef cubes with salt and pepper. Lightly dust with flour; shake excess.

Heat a small amount of vegetable oil in a large heavy pot.

Brown the beef cubes in small batches, adding more oil to the pot, as necessary between batches. Remove browned beef cubes and set aside.

When all of the meat has browned, pour off the excess fat. Add prepared stock. Bring to a boil, then reduce heat to a simmer.

Return beef cubes to the stock and simmer until tender, about 2 hours until tender and oxtails reach an internal temperature of 160ºF.

Season to taste with additional salt and pepper as necessary.

Serve with rice or mashed potatoes, if desired.
Find Your Faves
Get the cuts you crave at a store near you.