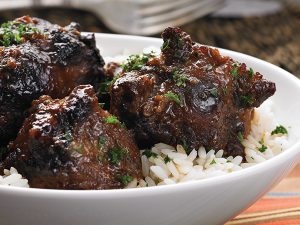 prep time: 00:15:00 cook time: 04:30:00
15 MIN

Prep Time

4-5 HRS

Cook Time

4

Servings
Ingredients
Rumba Meats® Beef Oxtails (4 pounds, cut into 2-inch pieces)
Flour for dusting (as necessary)
Olive oil (as needed)
1/2 cup green bell pepper, seeded and chopped
1/2 cup yellow onion, minced
3 cloves garlic, minced
3 tbsp tomato paste
1 cup red wine
1 qt beef broth
1/2 tsp thyme, dry
1/2 tsp cayenne pepper
Salt and pepper (to taste)
Instructions
Rinse beef oxtails and dry thoroughly with paper towels. Cut into 2-inch pieces. Season with salt and pepper. Dust with flour; shake excess.

Heat a small amount of olive oil in a large heavy pot. Brown the oxtails in small batches, adding more oil, as necessary, between batches. Remove browned pieces and set aside.

Drain off any excess oil and add the onions, peppers and garlic. Cook until soft and lightly brown. Stir in tomato paste and continue to cook for 2 more minutes.

Add red wine and simmer to a syrup-like consistency. Add beef broth, thyme and cayenne and bring to a boil.

Return the oxtails to the pot, reduce heat and simmer for about 4 hours until oxtails are tender and reach an internal temperature of 160ºF.

Remove oxtails and hold warm on the side. Degrease the cooking liquid and continue to simmer until lightly thickened.

Season to taste with salt, pepper and additional cayenne, if necessary. Return oxtails to the sauce and stir to blend.

Serve with steamed white rice, if desired.
FAQs
What does Rabo Encendido mean in English?
Rabo Encendido is Spanish for tail on fire. The dish gets its name from its famous mix of pepper and rich, bold spices.
Traditional recipes use a variety of peppers ranging from mild Cubanelle and green bell peppers to spicier peppers, such as scotch bonnets and habanero peppers. Our Rabo Encendido recipe uses ½ teaspoon of cayenne pepper. Use as little or as much cayenne pepper as you want to control the heat level in the recipe. Serve Rabo Encendido accompanied with salsa or your favorite hot sauce for spicier oxtails.

How do you cook beef oxtail?
Our Rabo Encendido recipe calls for braising, which is just one of many ways you can cook beef oxtail. Braising is probably the most popular option for making tasty, fall-off-the-bone oxtails. Before braising, sear or brown your oxtail to enhance its flavor, aroma, and appearance. Then you'll let it simmer in the sauce on the stovetop for 4 hours.
Other popular methods for cooking beef oxtail include braising in a pressure cooker or using a slow cooker.
Does Rabo Encendido taste good?
Rabo Encendido is a popular dish! When cooked properly, oxtail meat is tender and packed with flavor that will excite your tongue. You can eat Rabo Encendido on its own or serve it with rice, potatoes, or anything else you would like to compliment this hearty dish.
Find Your Faves
Get the cuts you crave at a store near you.