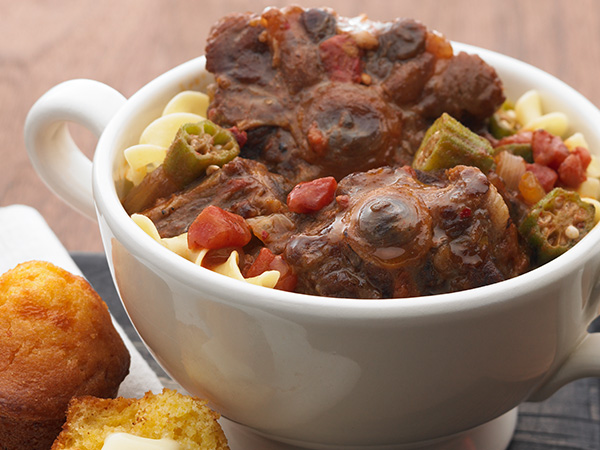 prep time: 00:15:00 cook time: 04:30:00
15 MIN

Prep Time

4-5 HRS

Cook Time

4

Servings
Ingredients
Rumba Meats® Beef Oxtails (4 pounds, cut in 2-inch pieces)
2 tablespoons flour plus more for dusting
Vegetable oil (as needed)
1 cup onions, minced
1 tbsp paprika
1 qt beef broth
2 cups canned diced tomatoes
8 oz fresh or 10 oz frozen okra, sliced
Salt and pepper (to taste)
Hot pepper flakes (to taste)
Instructions
Rinse oxtails and dry with paper towels. Cut into 2-inch pieces. Season with salt and pepper. Dust evenly with flour; shake excess.

Heat 2 tablespoons oil in a large heavy pot. Brown oxtail pieces in small batches, adding more oil to the pan between batches, if necessary. Remove browned oxtail pieces and set aside.

Add onions to the same pot and brown slowly. Stir in 2 tablespoons flour and paprika.

Stir in broth and tomatoes and bring to a boil. Reduce heat to a simmer and return oxtails to the pot. Simmer gently, about 3 to 4 hours, until tender and oxtail reaches an internal temperature of 160ºF.

Add okra and hot pepper flakes and simmer until the okra is tender, about 10 minutes (less time if using frozen okra).

Season the stew with additional salt and pepper as needed.

Serve with white rice, boiled potatoes or buttered noodles, if desired.
Find Your Faves
Get the cuts you crave at a store near you.