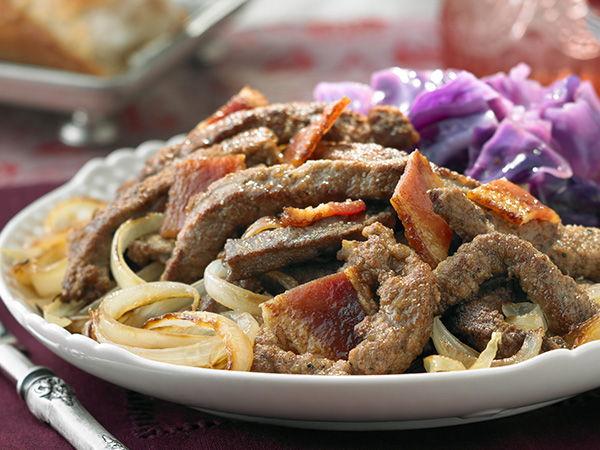 prep time: 01:00:00 cook time: 00:45:00
1 HR

Prep Time

45 MIN

Cook Time

4-6

Servings
Ingredients
Rumba Meats® Beef Liver (1 package)
Flour, as needed
1 tbsp plus 1 tsp olive oil
6 oz smoked bacon, raw, cubed
2 pounds (about 3-4) yellow onion, halved, thin sliced
4 tablespoons butter, unsalted
1/3 cup red wine
2 tsp red wine vinegar
2 tsp honey
Kosher salt and black pepper, as needed
Instructions
Cook bacon in a skillet until crisp. Using a slotted spoon, remove crisp bacon, drain and set aside. Add 1 tablespoon oil to bacon drippings. Set pan aside.

Melt butter in a medium-hot pan and add onions. Reduce heat and cook slowly until caramelized to a deep golden-brown color, stirring occasionally. Season with salt and black pepper.

Stir in red wine, vinegar and honey, simmer until liquid has reduced to a syrup-like consistency. Remove from heat and keep warm.

Slice liver into 1/3-inch slices. Season with kosher salt and pepper. Dredge slices in flour and shake off excess.

Heat skillet with pan drippings and oil to medium-high. Add flour-dusted liver slices and cook for approximately 1 minute per side or until slightly pink in the middle and internal temperature of liver reaches 160ºF.

Remove from pan. Serve over caramelized onions and garnish with crisp bacon.
Find Your Faves
Get the cuts you crave at a store near you.