Back to all recipes
Sauteed Liver with Caramelized Onions and Smoked Bacon
prep time: | cook time:
Prep Time: 1 hour | Cook Time: 45 minutes | Serves: 4-6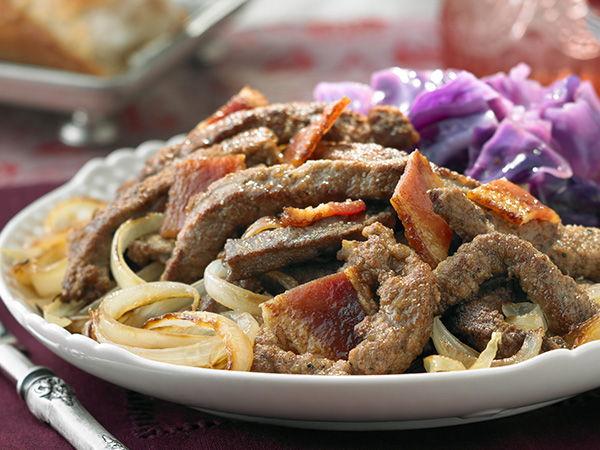 Ingredients
Rumba® Beef Liver (1 pkg.)

Flour, as needed

1 tbsp plus 1 tsp olive oil

6 oz smoked bacon, cubed

2 lbs yellow onion, halved and thin slices

2 oz butter, unsalted

1/3 cup red wine

2 tsp red wine vinegar

2 tsp honey

Kosher salt and black pepper, as needed
Instructions
Cook bacon until crisp and add pan drippings to the olive oil. Set aside.

Warm butter in a medium-hot pan and add onions. Cook slowly until a deep brown color is achieved. Season with salt and black pepper.

Add red wine, vinegar and honey, reduce onions and liquids to a syrup consistency. Remove from heat and keep warm.

Heat pan to medium-high heat with olive oil and bacon drippings. Slice liver into 1/3 inch slices. Season with kosher salt and pepper. Dredge slices in flour and pat off excess. Place into hot pan with oil.

Cook for approximately 1 minute per side or until slightly pink in the middle. Remove from pan. Serve over caramelized onions and garnish with crisp bacon.