Sonia's Caldo de Res (Mexican-Style Beef Soup)
To see Sonia's original blog post, please visit http://pinaenlacocina.com/2016/01/25/caldo-de-resits-a-sunday-thing-mexican-style-beef-soup/.
Featuring:
Rumba Meats® Beef Cross-Cut Hind Shank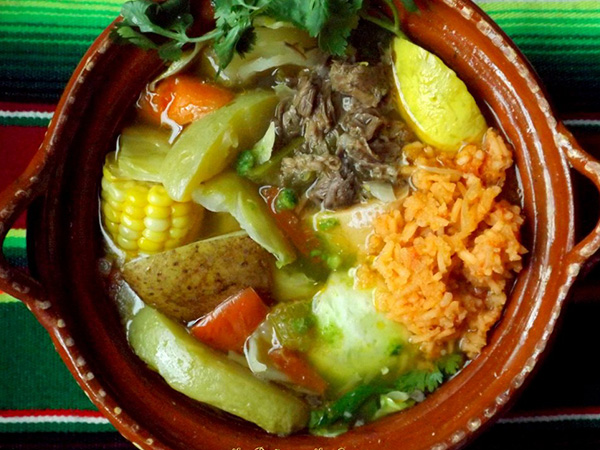 prep time: 00:25:00 cook time: 02:30:00
25 MIN

Prep Time

2.5 HRS

Cook Time

6-8

Servings
Ingredients
Rumba Meats® Beef Cross-Cut Hind Shank (2 1/2-3 pounds)
4 to 6 Rumba® marrow bones
½ onion, diced
2 teaspoons salt, divided
1 tablespoon minced garlic
2 bay leaves
½ cup sliced celery, divided
10 peppercorns
2 tablespoons seasoning sauce, such as Maggi Jugo Seasoning Sauce (optional)
8 cups water
2 to 3 large carrots, sliced
1 large chayote, sliced into wedges
2 roma tomatoes, diced
2 medium russet potatoes, sliced into chunks
2 ears of corn, sliced
1 summer squash, zucchini or calabacita, sliced
1/2 head of green cabbage, sliced into chunks
¼ bunch cilantro, chopped
Salt to taste
Serrano Salsa:
8 to 10 serrano peppers, roughly chopped
1/2 cup water
1/2 teaspoon salt
Instructions
Season beef hind shanks with ½ teaspoon salt.

In a pressure cooker, add beef hind shanks. Top with marrow bones, ½ onion, garlic, bay leaves, peppercorns, ¼ cup celery and seasoning sauce. Add water to ½-inch below maximum fill line.

Secure the lid and lock. Turn heat to high. Once the safety valve locks and the pressure release valve begin to hiss and rotate, turn heat to low. Set timer for 1 hour and cook until hind shanks and marrow bones are tender and internal temperature reaches 160ºF.

Meanwhile, in a large pot, add 8 cups of water and remaining 1 teaspoon salt; bring to a boil. Add carrots, chayote, remaining ¼ cup celery, diced onion, minced garlic and tomatoes. Reduce heat and simmer for 10 minutes.

Beef should be done around this time. Turn off heat and wait for safety valve to unlock. Once it unlocks, carefully remove the lid. Remove all beef (discarding excess fat) and transfer to simmering soup pot.

Strain the solids from beef stock and discard. Skim the fat from the top of stock. Add remaining beef stock to soup pot.

Add potatoes to simmering soup and cook 10 minutes. Add corn and cook 10 minutes. Add squash, cabbage and cilantro and cook for 10 minutes. Remove from heat, cover and keep soup warm.

For serrano salsa: Combine serrano peppers, ½ cup water and ½ teaspoon salt in a blender. Blend on high until smooth. Set aside.

Ladle soup into serving bowls and garnish with serrano salsa.

Serve with warm corn tortillas and rice, if desired.

RECIPE NOTE: Spread the bone marrow on warm tortillas with serrano salsa, a squeeze of fresh lemon juice and salt.
Find Your Faves
Get the cuts you crave at a store near you.