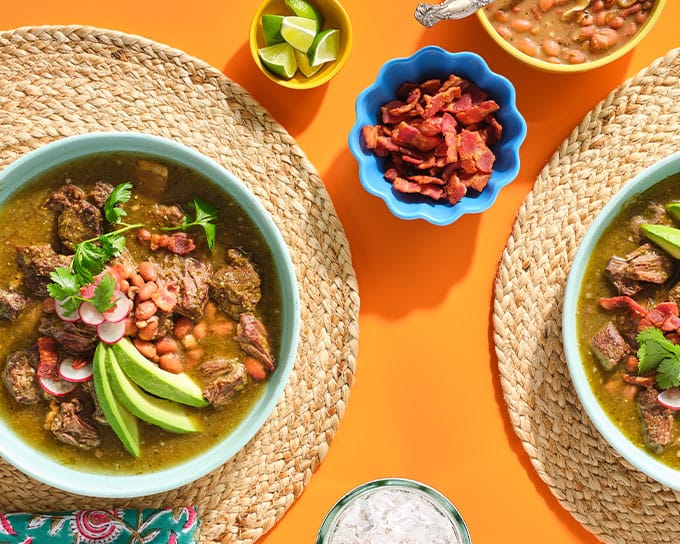 prep time: cook time:
25 mins

Prep Time

2 hrs 20 mins

Cook Time

6

Servings
Ingredients
1 package Rumba Meats® Beef Cheek Meat (about 1½ to 3 pounds)

4 slices thick-cut bacon, diced

1 tablespoon olive oil
1-pound (about 12) tomatillos, husked, rinsed
2 jalapeno peppers, stemmed
1 cup chopped white onion

2 garlic cloves

1 cup rough chopped fresh cilantro

1 teaspoon Kosher salt

½ teaspoon ground cumin

½ teaspoon dried Mexican oregano


4 cups beef or chicken broth, divided
Toppings:

1 (15-ounce) can pinto beans, simmered until warm
Sliced avocado
Thinly slice radishes

Chopped cilantro
Recommended sides: warm tortillas and fresh lime wedges


Instructions
Trim beef cheek meat and cut into bite-size pieces.

In a Dutch oven or heavy-bottomed soup pot, fry bacon until crisp, stirring occasionally. Using a slotted spoon, remove bacon and set aside.

Add cheek meat pieces to Dutch oven and cook on medium heat, stirring occasionally, until beef starts to release its juices, about 10 minutes

While beef is cooking, heat oil in a skillet over medium heat. Add tomatillos and peppers and cook, turning occasionally, until peppers and tomatillos are starting to char and burst, about 5 minutes. Transfer tomatillos and peppers to a blender bowl. Add onion, garlic, cilantro, salt, cumin, oregano, and ½ cup chicken broth. Blend until smooth.

Add pureed tomatillo mixture and remaining 3½ cups broth to Dutch oven and stir to blend. Partially cover with lid and simmer over low heat for 2 hours until cheek meat is tender and reaches an internal temperature of 160°F. Taste and adjust seasonings, if needed.

Serve carne en su jugo ladled into wide shallow bowls. Top each bowl with warm pinto beans, reserved diced bacon, and choice of fresh toppings such as sliced avocado, sliced radishes and chopped cilantro. Serve with warm tortillas and fresh lime wedges, if desired
Find Your Faves
Get the cuts you crave at a store near you.