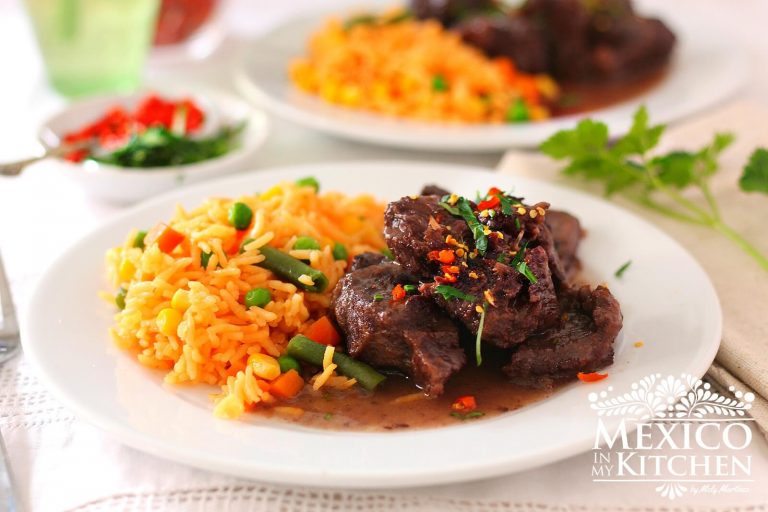 prep time: cook time:
15 minutes

Prep Time

45 minutes

Cook Time

4

Servings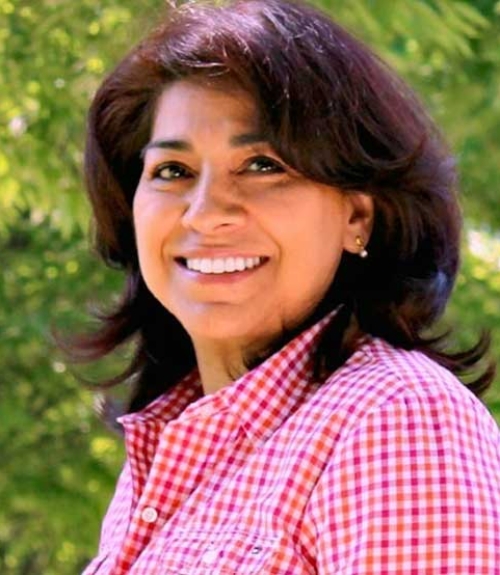 I'm Mely Martinez, passionate home cook and former teacher, born and raised in Mexico. Growing up, I was constantly thinking about food and watching how the women in my family cooked and prepared meals. Today, I enjoy teaching people how to cook Mexican food through my blog. Cooking my recipes with the best quality products is very important to me and Rumba Meats offers quality cuts of meat that are conveniently packaged and readily available.
Red Wine Beef Stew
It's a family tradition in our household to make New Year's resolutions, and as I mentioned in the previous post, my personal resolution this year is to add more variety to our weekly menu by cooking interesting dishes I don't make as often as we would like to. Dishes like today's recipe, "Red Wine Beef Stew". It's a wonderful stew that's great to make for special occasions and wintertime. The best part about this dish is that it's really easy to prepare.
This recipe has a traditional French influence. As I've mentioned on many occasions before, Mexican cuisine is a fusion of many cultures, including those that arrived after the Spanish colonization. The main influences from the Old World come from France, Spain, Asia, Africa, and the Middle East. In Spanish, these types of recipes cooked with wine or vinegar are called "Estofados", a word derived from the French "Étouffée". Estofados are stews made with meat that is slow cooked inside a covered pot with a sauce or in its own juices. In the Mexican cookbook "Nuevo Cocinero Mejicano" from 1878, I found several recipes that are almost identical to this Red Wine Beef Stew, with some using lamb, beef, or chicken. Nowadays in Mexico, these stews also include tomato sauces and vegetables and vary by region.
I've been making this recipe for many years, and I adapted it from one of the first cookbooks I bought as a newlywed, back in the 80s. The book's name is "… y la comida se hizo rápida" ("…and the meal was made quickly"), which means that this recipe is quick and easy to prepare. One thing to keep in mind, though, is that the cooking time will vary depending on the cut of meat that you choose.
I usually like to make this dish with beef hind shank, because the bone-in meat has lots of flavors and adds a unique taste, but today I will be using beef cheek from RUMBA® Meats. You can prepare this recipe using either one of these cuts.
RUMBA Meats has a large variety of different cuts of meats (nearly 20 in total), and chances are there is one that is just right for your favorite family meal. One thing that I like about them is that all their products are vacuum-sealed for added freshness. In our Mexican cuisine, we use many, if not all, of the cuts of meat offered by them, so I definitely make use of their products. If you'd like to find out a retailer that carries them, check out their store locator on their website; I usually buy their products at my local Wal-Mart or the nearby Kroger store.
Now let's get started with this delicious recipe!
Directions
Using a paring knife, clean any excess fat from the meat. Season the meat well with salt & pepper and sprinkle with 3 tablespoons of flour (you will use the leftover flour in the next step).
Heat the oil in the pot and add the meat. Cook for about 2-3 minutes per side, making sure all the sides are brown. Stir in the rest of the flour and mix well.
Place the herbs and garlic in cheesecloth. Tie up the cheesecloth with a string and add to the pot along with the onion. If you don't have cheesecloth, just place the herbs in the pot and discard before serving. Pour the water (or broth) and wine in the pot, place the lid, and cook for 40 minutes (if using an Instant Pot). (Check NOTES for cooking time using other devices.) Taste to check if it needs more salt.
Serve with some of the wine sauce and garnish with parsley. This dish can be served with mashed potatoes and a salad or with rice and vegetables.
Ingredients
Rumba Meats® Beef Cheek Meat (2 lbs., cut into 1.5-in. cubes)
Salt & Pepper to taste
6 tablespoons of all-purpose flour
2 tablespoons olive oil
¾ cups red wine
¾ cups of beef broth or water
1 bay leaf
1 teaspoon of dried thyme or 2 fresh sprigs
½ teaspoon of marjoram
1 large garlic clove
½ medium size white onion
Chopped parsley, for garnish
Recipe Notes
This versatile dish can be prepared in a variety of methods. For slow cooker prep: cook 6 hours on low. For pressure cooker prep: cook 50 minutes. For stove top prep: cook 2 hours.
Instructions
Slice beef cheekmeat into 1½-inch cubes. Using a paring knife, clean any excess fat from the meat.
Season cheekmeat with salt and pepper. Toss in 3 tablespoons flour to evenly coat, shake excess.
Heat oil in an instant pot over medium-high heat. Add cheekmeat and brown for 2 to 3 minutes on each side, making sure all sides are browned. Stir in remaining 3 tablespoons flour and mix well.
Place bay leaf, thyme, marjoram and garlic in cheesecloth, tie with string and add to pot. (If you don't have cheesecloth, just place herbs and garlic in the pot and discard before serving.) Add onion, broth and wine.
Close the lid and cook for 40 minutes until cheekmeat is tender and reaches an internal temperature of 160ºF. Taste and adjust salt if needed.
Serve stew meat topped with additional wine sauce and garnish with parsley.
Accompany with mashed potatoes and a salad or with rice and vegetables, if desired.
Find Your Faves
Get the cuts you crave at a store near you.