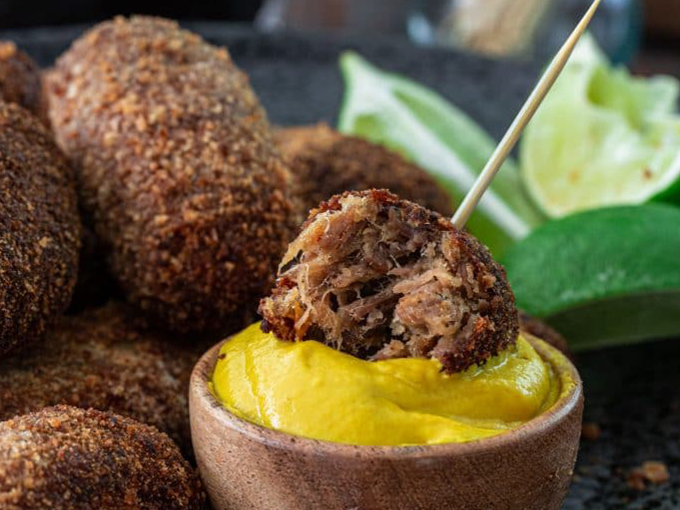 prep time: 00:25:00 cook time: 00:20:00
25 MIN

Prep Time

20 MIN

Cook Time

8-10

Servings
Ingredients
Rumba Meats® Beef Oxtails (1 package)
Salt and freshly ground pepper, to taste
2 tablespoons vegetable oil
2 medium yellow onions, chopped
5 cloves garlic, minced
4 large tomatoes, chopped
1 cup stout beer
2 cups beef broth
1 tablespoon Worcestershire sauce
2 bay leaves
¼ cup milk
½ cup flour
2 eggs
1½ cups breadcrumbs
Vegetable oil, for frying
Instructions
Season beef oxtails with salt and pepper. Heat vegetable oil in a large Dutch oven over medium-high heat until shimmering. Add oxtail pieces in a single layer without overcrowding the pot. Sear the meat, turning occasionally, until brown on all sides, about 8 minutes total. Remove oxtail pieces and reserve.

Lower the heat to medium; add onion and garlic. Cook until fragrant and softened, about 3 minutes. Add tomatoes and stir to combine. Stir in beer, beef broth and Worcestershire sauce. Add bay leaves. Bring to a boil, scrapping the browned bits from the bottom of the pan.

Return oxtail to the pot. Cover, lower heat to a simmer, and cook for 2 to 3 hours or until oxtails reach an internal temperature of 160ºF and the meat is falling-apart tender. Remove oxtail pieces and shred the meat, discarding the bones and any large pieces of fat. Reserve.

Bring the remaining sauce in the pot to a boil over medium-high heat, for about 15 minutes or until sauce is reduced by half. Remove bay leaves. Spoon off fat from surface of pan juices and discard. Taste and adjust salt and pepper. Reserve.

In a small bowl, whisk together ½ cup sauce, milk and flour. Combine shredded meat with the sauce/flour mixture in the Dutch oven and stir to blend. Cook over medium heat, stirring frequently, until it comes together and starts releasing from the bottom of the pan, about 5 minutes. Season with salt and pepper. Remove from the stove and let cool to room temperature. Cover with plastic and refrigerate for 1 hour.

Remove the meat mixture from the refrigerator and form into 2-inch logs. In a shallow bowl, whisk two eggs. In another bowl, place the breadcrumbs and season with salt. Working with 1 croquette at a time, dip in the egg mixture; drain excess. Coat with breadcrumbs; shake excess. Repeat with remaining croquettes.

Heat 2 inches vegetable oil in a medium saucepan until a deep-fry thermometer reads 350ºF. Working in batches, fry oxtail croquettes until golden and crispy, about 2 minutes per batch, turning as needed.

Transfer the fried croquettes to a plate lined with paper towels to drain.

Serve croquettes hot with lime wedges and mustard, if desired.
Find Your Faves
Get the cuts you crave at a store near you.