Menudo Rojo (Slow Cooker Dinner)
Get dinner started in the morning and escape to Mexico for dinner! This simple to prep beef menudo recipe fits busy morning schedules, slow cooks all day and is ready to serve when everyone gets home at the end of the day.
Featuring:
Rumba Meats® Beef Scalded Tripe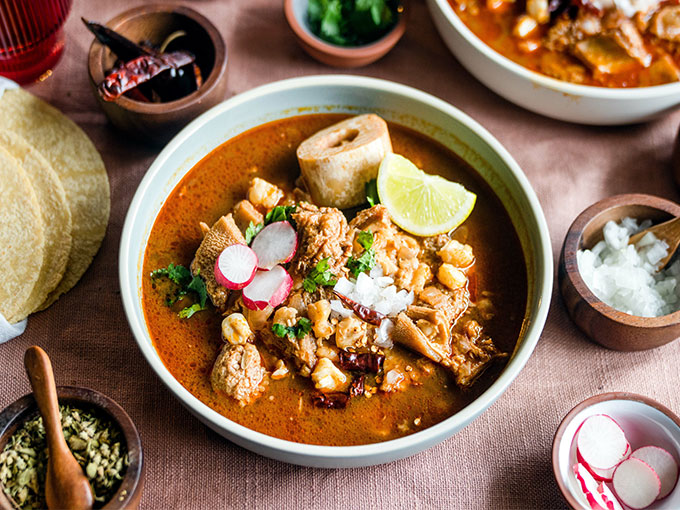 prep time: cook time:
15 MIN

Prep Time

8 HRS

Cook Time

6

Servings
Ingredients
• Rumba® Beef Scalded Tripe (1 package, about 5 pounds)
• Rumba® Beef Marrow Bones (1 package, about 1.5 pounds)
• 1 (16-ounce) jar or can prepared red chile sauce
• ½ while onion, chopped
• 1 (25-ounce) can hominy, drained
• 3 cups water
• Garnishes: chopped onions, chopped cilantro, and sliced radishes
• Recommend side: warm corn tortillas

Instructions
Rinse tripe under cold running water. Trim and cut into spoon-size pieces with kitchen shears.

Combine tripe in slow cooker with beef marrow bones, red chile sauce, onions, hominy and water. Stir to blend. Cover with lid and cook on low setting for 8 hours or until tripe is tender and internal temperature reaches 160°F. Taste and adjust seasoning, if needed.

Garnish menudo with chopped onions, fresh cilantro, and sliced radishes. Serve with warm corn tortillas, if desired.
Find Your Faves
Get the cuts you crave at a store near you.