Back to all recipes
Caldo de Pata
prep time: 00:15:00 | cook time: 00:40:00
Prep Time: 15 minutes | Cook Time: 40 minutes | Serves: 6-8 servings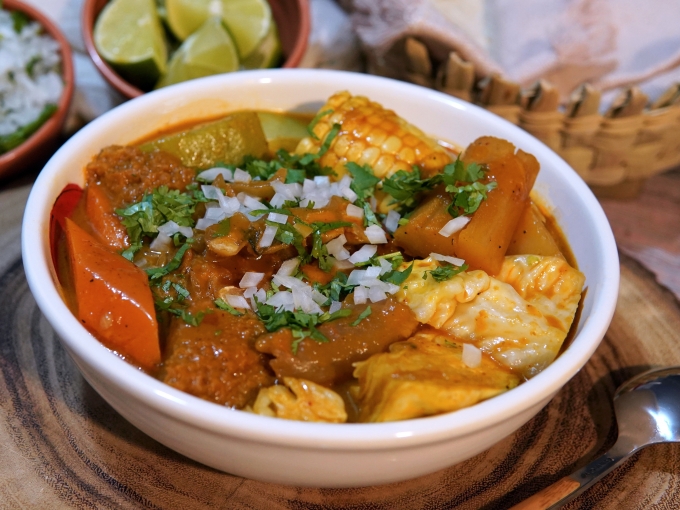 Ingredients
Rumba® Beef Feet (1 package, cooked )

Rumba® Honeycomb Tripe (1 package, cooked and cut into bite-sized pieces)

14 cups water (or stock from cooked beef feet or tripe)

2 medium onions

8 cloves garlic

1 large green pepper

4 large Roma tomatoes

1½ tablespoons achiote

1 large green plantain

2 ounces relajo spices*

3 celery sticks

1 small bunch cilantro

1 small bunch mint

½ teaspoon pepper

3 tablespoons salt, or to taste

1 lb. yucca, peeled and cut into chunks

4 large carrots, peeled and cut into chunks

1 chayote, cut into chunks

½ large green cabbage, cut into 4 pieces

2 ears corn, husked and cut into 3 pieces

Garnishes: Minced cilantro, minced onion, limes and tortillas
Instructions
Before making soup, cook tripe and beef feet. Simmer tripe with one celery stick, ½ onion, 2 garlic cloves and salt to taste. Cook for about 1½ hours or until tripe is soft.

For beef feet, follow the same instructions – but place in separate pot due to longer cooking time. Cook beef feet for about 3 hours or until tender.

Once tripe and beef feet are cooked, make the soup. To make this recipe easier, cook tripe and beef feet the night before.

To prepare sauce, toast relajo on skillet over medium heat. When sesame seeds turn golden-brown, remove from heat and set aside.

Place relajo in blender with tomatoes, 1 celery stick, green pepper, 1 onion, 4 cloves of garlic, green plantain and 2 cups water. Blend until very smooth.

Place cooked tripe and beef feet in large pot and cover with water or stock. Bring to a boil.

Strain sauce and pour into pot. Simmer broth and season with achiote, pepper and salt to taste. Add cilantro, mint, yucca and corn. Cook for 20 minutes; add remaining vegetables and cook for an additional 20 minutes or until tender.

Serve soup in large bowls and sprinkle with cilantro and onion. Don't forget corn tortillas and lime!