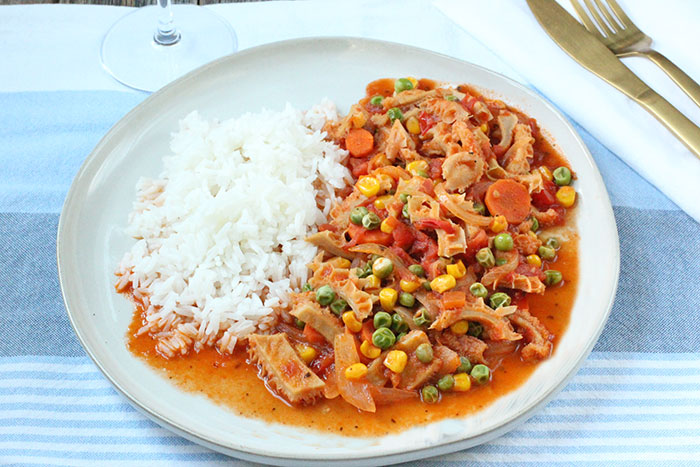 prep time: cook time:
20 minutes

Prep Time

1 hour 50 minutes

Cook Time

4

Servings
Carolina Rojas is a cook and food blogger, and currently resides in Atlanta, GA. In 2006, she created the bilingual cooking blog Mi Diario de Cocina, which quickly began to gain a large audience. The blog features a diverse arrangement of international cuisine while promoting recipes and traditions from her native Chile. In 2017, she published a bilingual cookbook entitled "Mi Diario de Cocina Chilena."
Guatitas a la Jardinera
Both in Chile and in South America, this cut of meat called "guatitas" (beef tripe) or "mondongo", is very popular and classic of home cooking. With this cut you can make those classic recipes of yore. And following the line of this blog to keep the traditions alive, I wanted to make this popular dish called Guatitas a la Jardinera. It is quite easy to make, it uses simple ingredients, and my only recommendation is that when you cook the beef tripe you should try to keep the place well ventilated, since the smell can be a bit strong.
To buy this beef tripe I went to the Rumba Meats store on Amazon. There you can buy exactly the cut that you need. It is a very effective and efficient way for those who live in the United States.
As an interesting fact I can tell you that there are some people who leave the beef tripe soaking in milk overnight, or also at the time of cooking they add a little bit of vinegar. In this recipe I only added water, salt, pepper and bay leaves. The cooking was done in an iron pot, and I cooked it for 1½ hours. If you have a pressure cooker, it only takes 45 minutes.
Ingredients
For the beef tripe:
For the base stew:
1 tablespoon of olive oil
1 onion, julienned
1 clove of garlic, chopped
1 carrot, sliced
1 large tomato, diced
1 cup of tomato sauce, or tomato paste
1 teaspoon of driedoregano
1 cup of peas
1 cup of whole kernel corn
Instructions
Wash beef honeycomb tripe under a stream of cold water. Place in a stockpot and cover with cold water. Add bay leaves and season with salt and pepper.
Bring to a boil, reduce heat and simmer for about 90 minutes in a stockpot, or 45 minutes in a pressure cooker until tripe is tender and reaches an internal temperature of 160ºF.
Remove tripe, cool and cut it into small strips. Set aside. Reserve cooking liquid.
For base stew: Add oil to a pan over medium heat. Add onion and chopped garlic to hot oil and fry for about 4 minutes. Add carrots and continue cooking for about 3 minutes, stirring occasionally.
Stir in tomato, tomato sauce and oregano. Season with salt and pepper.
Stir in tripe strips and 1 cup reserved cooking (or 1 cup beef broth). Add peas and corn.
Cook over medium heat for about 4 minutes until fully heated.
Serve with white rice or French fries, if desired.
Find Your Faves
Get the cuts you crave at a store near you.