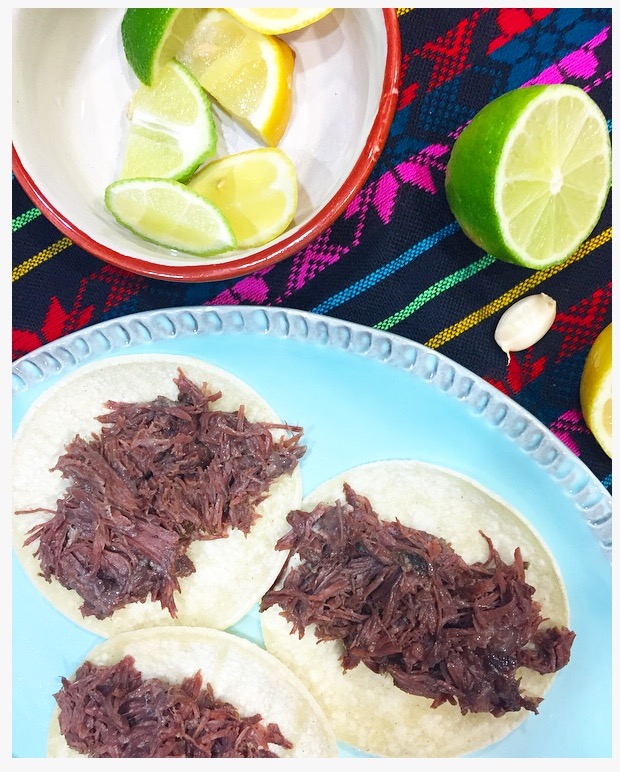 prep time: cook time:
1+ HRS

Cook Time

12

Servings
Hi, I'm Lynda Segovia Thorn, wife and mother. Originally from Texas, I now reside in California and teach SpEd students while blogging about food, familia and travel. By making my children the same meals my Mom made me, I can share our proud Mexican heritage with them. As the mother of multicultural kids, it's important to me that they know where they came from - Rumba Meats helps make that possible.
Authentic Barbacoa Tacos
I'm still on cloud nine since finding out I can get all my favorite cuts of meat, to make traditional Mexican meals, at my neighborhood Lucky's Supermarket, all thanks to Rumba Meats. Not only is Lucky's carrying Rumba Meats, you can find it at FoodMaxx & Save Marts too. This is great news for those of us that like to make Menudo, Lengua Tacos, Tripas,  & all the other delicious Mexican dishes we grew up eating … like the Barbacoa Tacos I made in the photo below.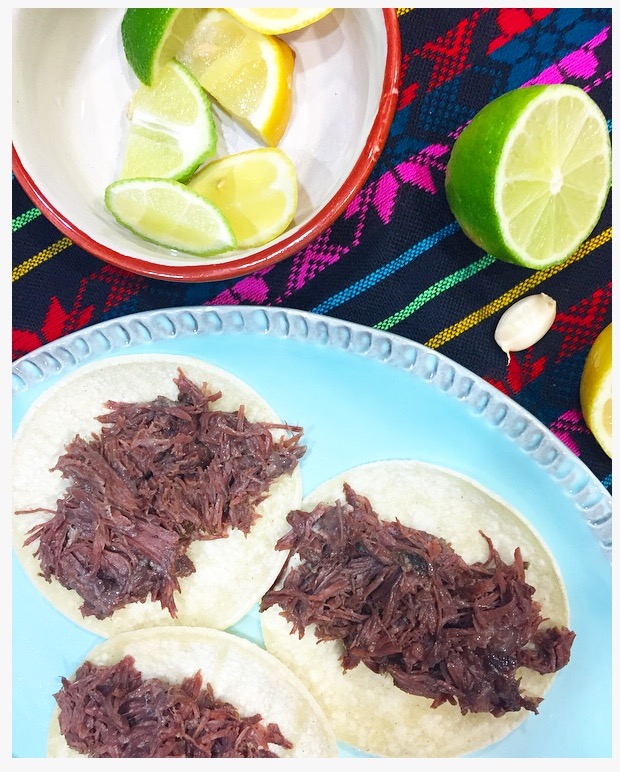 Growing up Latina (1/2 anyways) in San Antonio, meant eating barbacoa tacos on the weekends. No, not every weekend – I wasn't that lucky! Sometimes we'd buy a few pounds of cooked barbacoa from a little restaurant up the street from our home, but that's only if we woke up super early- barbacoa sells out really fast in restaurants & is usually only available on the weekends. Other times, my Mom would buy an entire cow (calf) head from the butcher & we'd make our own barbacoa! (Yes, that was the only way to make barbacoa back then). The cow head would cook all night in the oven, on low heat. My parents would get up every couple hours to add water to the pan so it wouldn't burn. By the time I woke up in the morning, the barbacoa meat would be in a bowl on the table… along with warm corn tortillas. Those breakfasts were special, and I can still remember how excited I'd be to dig into that freshly cooked barbacoa.
Barbacoa is actually a whole lot easier to cook nowadays. I don't need to buy an entire cow head-all I need is a package or two of Beef Cheek Meat. Rumba Meats sells packages of Cheek Meat & I used their meat to make all the barbacoa you see in my pics. The quality of the meat is excellent, my barbacoa came out delicious! It tastes just like the the barbacoa I grew up eating!
Directions
Today, I'm sharing my Barbacoa recipe with you. It's easy & simple, your crockpot will do all the work for you! (I have a Hamilton Beach Crockpot- you can check them out here.) When the meat is cooked it will literally be falling apart – so tender. Just use a couple of forks to shred it before putting it on your tortilla.
Trim the fat from the meat before you cook it. It tends to be fatty, but that also gives it flavor. Barbacoa meat is a little sticky, due to some of the fat that is marbled in the meat. Perfectly normal-it's supposed to be that way. The meat will practically melt in your mouth.
Enjoy your Barbacoa Tacos.
Ingredients
Rumba Meats® Beef Cheek Meat (6 lbs)
3 tsp garlic powder
3 tsp onion powder
1 cup water
1 lime sliced into wedges
1 lemon sliced into wedges
1/2 onion, diced
1 bunch cilantro, chopped
1 dozen corn or flour tortillas (I use corn for tacos and flour for burritos)
Recipe Notes
Growing up, we never added anything to our Barbacoa Tacos- we ate it without onions & cilantro. Try it both ways & see which you prefer. Enjoy your tacos!
Instructions
Rinse your Rumba Meats Beef Cheek Meat & then trim away all the visible fat.
Put into your crockpot, and cover with 1 cup water.
Add garlic powder & onion powder.
Set crockpot to HIGH & cook for 4 hours.
Once cooked, remove from crockpot & put in large bowl or plate.
Shred meat with 2 forks.
Heat tortillas & scoop meat onto tortilla.
Season with salt to taste.
Add cilantro, diced onions & squeeze juice of lemon onto meat. (Or just eat plain-it's up to you!)
Find Your Faves
Get the cuts you crave at a store near you.