Karen Delgado was born in México and is a proud Latina living in Los Angeles. She is the creator of Mi Cocina Rápida, a Spanish blog and YouTube Channel where she shares her love for homemade food. Her cooking is inspired by her mother, who taught her the passion for making people happy with delicious food. Karen's cooking style is easy, versatile and she loves to use fresh ingredients like Rumba Meats.
Beef Tongue Tacos a la Mexicana
You've been asked to bring food for La Posada? Don't worry! Tongue Tacos a la Mexican are an excellent choice, plus – who can deny the delicacy of a taquito? No one!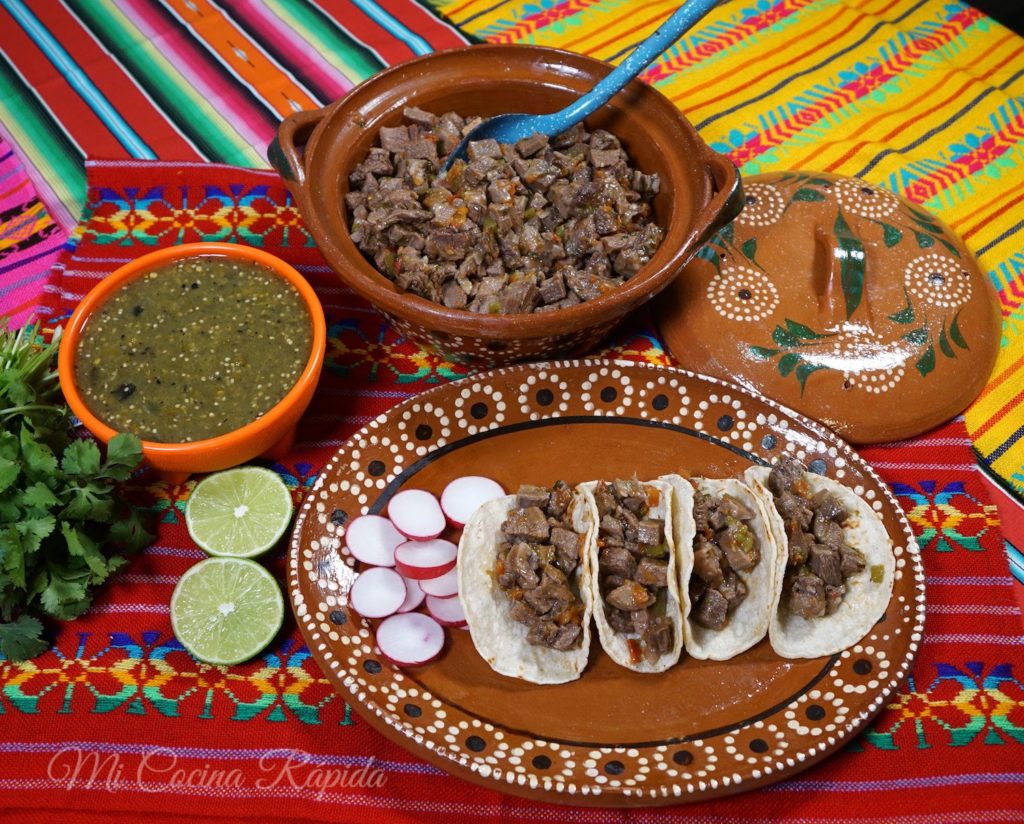 During Las Posadas, one of the most important things – and the one thing that everyone waits for – is the food. I remember when I was living in Mexico, we would organize Posadas with the neighbors, and for the food, everyone would bring a dish to share, and without a doubt, the tacos were always the first to go.
Truly, I am already counting the days. My family and I are organizing a Posada for Christmas Eve, and of course, I will be sharing photos and videos on Instagram and Snapchat.
Tongue Tacos are one of the most popular dishes in the Mexican taquerías, but these tacos are even more special because the beef tongue is cooked with tomato, onion and jalapeño: A la Mexicana! Which just makes them even richer.
And to remember those Posadas, and of course, to delight my palate, the other day I went to Aldi and found Rumba Meats Beef Tongue there.
What I like about this brand of meats is that they are vacuum-sealed, which guarantees that the meat will stay fresh longer in the refrigerator; plus, we can avoid those terrible accidents when all of the meat juice "leaks" – has that ever happened to you? Rumba Meats has more than 20 cuts of meats, to guarantee that we will find that perfect cut to create those recipes we like the most.
Directions
To start, cook the tongue. For this, put it in a pot with sufficient water, garlic, onion, bay leaves and salt. When the tongue is cooked, take it out of the broth and remove the skin, then cut into small bites.
Now, in a pan or skillet, sauté the onion and jalapeño for about 2 minutes, or until the onion is transparent, then add the tomato and sauté for another minute. Next add the tongue, cilantro, a little of the broth from cooking the tongue, and season with salt and pepper. Let cook for about 15 minutes or until the broth is absorbed.
And now, the Tongue a la Mexicana is ready to prepare those taquitos. But, of course, you can also use it as a filling in tortas, burritos, sopes, etc.
Don't forget to serve the tacos with your favorite salsa.
Now aren't you craving a taco a little?
I hope that you are encouraged to prepare these tacos, enjoy!
Ingredients
Rumba Meats® Beef Tongue (3 pounds)
½ medium onion
3 cloves of garlic
4 bay leaves
3 tomatoes, chopped
½ onion, chopped
2 jalapeños, chopped
¼ cup fresh cilantro, chopped
Salt and pepper for seasoning
For the Tacos
Taco-size corn tortillas
Picante salsa, at your taste
Instructions
Put the beef tongue in a sufficiently-sized pot, cover with water and add the ½ onion, garlic, bay leaves and season with salt. Cook on low heat for 1 hour or until the beef tongue is soft.
Carefully take out the beef tongue, remove the skin and cut into small bites. Keep 1 cup of broth.
In a large pan or skillet, over medium heat, warm one tablespoon of oil. Sauté the onion and jalapeño for two minutes or until the onion becomes transparent in color.
Add the tomato and sauté for 1 minute.
Add the beef tongue, cilantro, 1 cup of broth from cooking the tongue, and season with salt and pepper to taste. Cover the pan or skillet and let cook for 15 minutes, or until the liquid is absorbed.
Serve immediately in tacos with corn tortillas and your favorite salsa.
Find Your Faves
Get the cuts you crave at a store near you.