Back to all recipes
Tripitas Tacos for Día de Reyes
prep time: 00:15:00 | cook time: 01:00:00
Prep Time: 15 min. | Cook Time: 45 min. - 1 hour | Serves: 4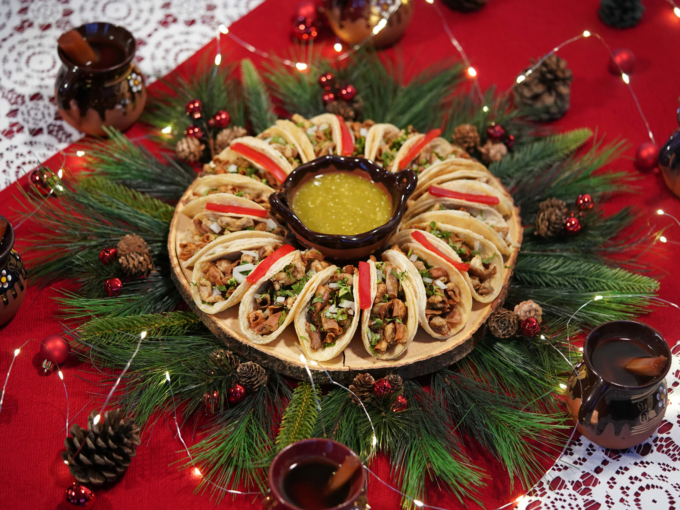 Ingredients
Rumba® Beef Tripas (2 lbs, cut into 2-inch wide by 4-inch long strips)

1 gallon salted water

1 cup cilantro, finely chopped

1 cup onions, finely minced

1 cup red bell peppers, finely chopped

2 limes, juiced

Salt (to taste)

8 corn tortillas

Salsa verde (or salsa of your choice)
Instructions
Rinse tripas very well with cold running water. Place in a pot and boil in salted water until tender, about 30 minutes.

Remove from water and dry gently with paper towels.

Grill or sauté tripa strips until they are brown and crisp. Toss with cilantro, onion, lime juice, red bell peppers and salt.

Wrap tripas strips in warmed corn tortillas.

Serve with additional lime wedges and pico de gallo, or salsa of your choice.
How to assemble the perfect plate of a Rosca de Reyes, taco edition:
Select a round shaped plate in the color of your choice.
Place a small bowl in the center of the plate and fill it up with the salsa of your preference– our favorite is salsa verde.
Start placing your tacos de tripa around the plate, while surrounding the salsa bowl to resemble the shape of a traditional Rosca.
Top this delicious inspiration with red bell peppers and ¡listo!
¡Feliz Día de Reyes!