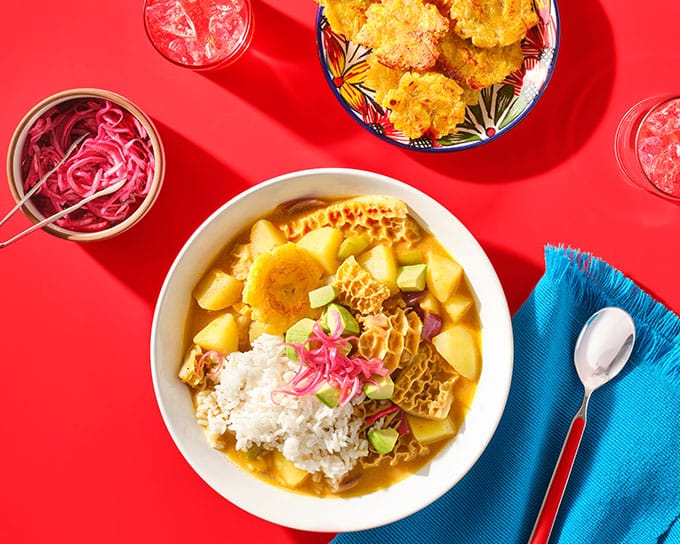 prep time: cook time:
25 mins

Prep Time

2 hrs 25 mins

Cook Time

6-8

Servings
Ingredients
Rumba Meats® Beef Honeycomb Tripe (5 pounds)
2 garlic cloves
½ bunch fresh cilantro sprigs
2 green onions, sliced in half
1 teaspoon Kosher salt
1 tablespoon olive oil
½ red onion, chopped
½ white onion, chopped
½ green bell pepper, chopped
3 garlic cloves, chopped
½ cup peanut butter, (preferably no-added sugar peanut butter)
1 teaspoon achiote paste
1 teaspoon ground cumin
1 teaspoon dried Mexican oregano
3 potatoes, peeled, 1-inch diced
1 tablespoon chopped cilantro
Salt and black pepper, to taste
White rice, as needed
Diced avocado, as needed
Recommended sides: Tostones, and pickled red onions
Instructions
Rinse beef tripe under cold running water. Using kitchen shears or a knife, cut tripe into small bite-size pieces

In a stockpot, combine tripe, garlic cloves, cilantro sprigs, green onions, and salt. Add water to cover. Bring to a boil, reduce heat and simmer for 2 hours until tripe is tender and reaches an internal temperature of 160°F. Remove tripe and 6 cups cooking stock and set aside.

Heat oil in a skillet over medium heat. Add red onion, white onion, bell pepper, and chopped garlic and cook for 5 minutes, stirring frequently. Add 6 cups reserved cooking stock, peanut butter, achiote paste, cumin, and oregano to stockpot and stir over medium-high heat until completely blended and stock is simmering. Add potatoes and reserved cooked tripe. Simmer to 15 minutes until potatoes are tender. Stir in chopped cilantro and season to taste with salt and black pepper.

Serve ladled into bowls with scoops of white rice and diced avocado. Serve with tostones and pickled red onions, if desired.
Find Your Faves
Get the cuts you crave at a store near you.