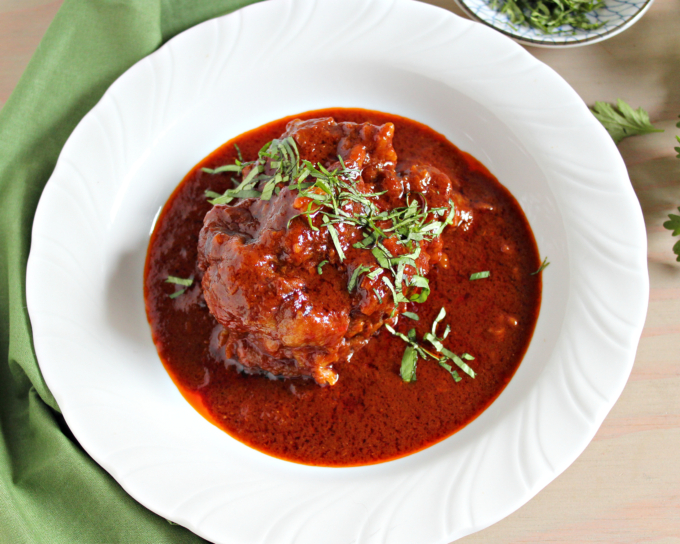 prep time: cook time:
20 minutes

Prep Time

2.5 hours

Cook Time

4

Servings
Based in Los Angeles, Latino Foodie has quickly become a source for original and adapted recipes that are a mix of traditional and modern interpretations of Mexican dishes. Watch Art show off his classically trained Le Cordon Bleu culinary skills and Stephen throw his fun-loving spirit into homemade Mexican dishes. Latino Foodie searches for the freshest ingredients and love adding new contemporary twists to some old standards.
Braised Oxtail in a Guajillo Sauce
Ingredients
Rumba Meats® Beef Oxtails (3 pounds)
8 dried Guajillo peppers, stems and seeds removed
6 dried Japones peppers, stems removed
1 medium white onion, quartered
½ medium white onion, cut into half-moon slices
8 garlic cloves
2 tbsp. vegetable oil
1 beef bouillon cube
2 tbsp. organic apple cider vinegar
1 teaspoon kosher salt
½ cinnamon stick
1 clove
Recipe Notes
Serve with white rice, beans, and flour tortillas.
Instructions
1. In a medium saucepan, add guajillo and japones peppers, quartered whole onion and garlic.
2. Cover with water and bring to a boil over medium-high heat.
3. Once the liquid comes to a boil, turn off the heat and cover for 20 minutes until the ingredients are fully softened.
4. In a blender, add all the ingredients plus beef bouillon, vinegar, salt, cinnamon and clove and 1 cup steeping water from the pan. Puree the mixture until smooth.
5. Push the mixture through a sieve into a bowl and reserve.
6. In a 6-quart cast iron Dutch oven over medium high heat, add oil and sliced onions. Cook for about 3 to 5 minutes until the onions are translucent, stirring occasionally.
7. Add beef oxtails and sear on all sides, about 2 to 3 minutes on each side.
8. Lower heat to medium-low and add reserved guajillo sauce. Cover pot and cook for about 1½ hours, basting every 20 minutes, until oxtails are tender and reach an internal temperature of 160ºF.
9. Salt to taste, if desired.
Find Your Faves
Get the cuts you crave at a store near you.