Quick, what's for dinner?
See how to make soups and stews for busy weeknights. With our tips and tricks, and a little planning, you can have hearty, delicious meals on the table in no time.
Quick and Easy Soups and Stews
Tips & Tricks • Tips & Tricks • Tips & Tricks • Tips & Tricks • Tips & Tricks • Tips & Tricks • Tips & Tricks • Tips & Tricks • Tips & Tricks • Tips & Tricks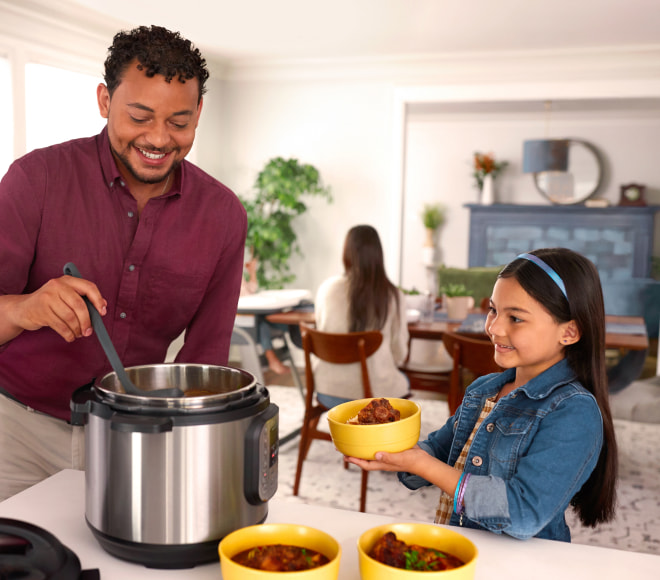 Save Time on Soups & Stews
Here are 10 tips and tricks that can save you lots of time, no matter which soup or stew you're making.
You don't need to brown oxtails for soup, but if you have the time, this step adds lots of rich depth and bold caramelized beef flavor. Pat oxtails dry and pan-sear in hot oil over high heat until evenly browned on outer surfaces. Take care not to over crowd the pan or oxtails will steam instead of brown.
After beef is cooked in an Instant Pot, use the natural release setting, rather than quick release setting, to allow the pan juices to slowly settle back in the meat for tender succulent texture and best flavor.
To store beef simmered in stock, such as oxtails, tongue, and hind shanks in the refrigerator, add some of the cooking liquid to the airtight container and cover to keep the cooked beef moist.
If mornings are too hectic to assemble a slow cooker dinner, switch your recipe prep to later in the evening and slow cook soup or stew overnight. In the morning, simply transfer to containers and refrigerate. Dinner is done!
Save time making dinner with pre-cut frozen vegetables. Especially vegetables that take a lot of time to prep such as butternut squash and yuca. Frozen pre-cut blends, such as sancocho tropical root vegetable mix reduce the need to buy a lot of different vegetables for one recipe.
Have a cherished family recipe for authentic red chile sauce but don't have time to prepare it on busy weeknights? Make a large batch ahead and freeze in soup recipe-size portions for up to 3 months. Then simply thaw in the refrigerator a day before preparing your favorite soup recipe.
Skip the smoky kitchen and roast salsa vegetables in your air fryer! Layer jalapeño or serrano peppers, tomatillos, onion, and garlic in air fryer basket and roast until evenly charred. Combine with cilantro, lime and salt in a blender and blend for roasted salsa verde.
Cook once, eat twice! Large batch soup and stew recipes are a great way to get dinner on the table quick and easy on cold winter nights with planned leftovers waiting in the refrigerator after a busy day.
To refresh day-old corn tortillas, dip briefly in water, shake excess and place on a hot oiled comal or griddle and heat for 30 seconds on each side until tortillas are pliable with a rich ground corn aroma. Then immediately place in tortillero basket and cover or wrap to keep warm.
Create your own culinary heritage story with a new molcajete to pass down as a treasured kitchen tool full of memories to your own children. Look for an authentic volcanic lava rock hand carved mortar and pestle molcajete. Then add a traditional Mexican root bristle brush for scrubbing clean. Now it's time to cure your new molcajete. Using your bristle brush, scrub molcajete under running water and dry. Add raw rice to the molcajete and grind until rough edges are ground smooth, finishing with a paste of ground rice and water. Then wash in hot water with the brush until clean.