Make a quick escape
Soups and stews combine your favorite meats and flavors in a single, hearty dish. They're a quick and easy way to make a delightful, satisfying dinner on busy weekdays. And our traditional recetas will transport you to otros países. Here are recipes, tips, and tricks to get you on your way.
Soups and Stews Made Simple
Along with honeycomb tripe, tomato flavors and sazón star in this easy-to-make soup. Using an instant pot, you can go from chopping to ladling a delicious meal for your whole family in about an hour.

View Recipe

Just 15 minutes of prep time in the morning can bring you the authentic Mexican textures of scalded tripe and hominy. The tripe absorbs the flavors of red chile sauce and veggies while the stew simmers! Menudo Rojo makes a great family dinnertime escape.

View Recipe

The melt-in-your-mouth texture of beef tongue combines with the flavors of chile sauce, lime, and cilantro to create the perfect comfort food. With just 10 minutes of prep time—10 minutes!—you can make a delicious Puerto Rican escape.

View Recipe
Tips & Tricks • Tips & Tricks • Tips & Tricks • Tips & Tricks • Tips & Tricks • Tips & Tricks • Tips & Tricks • Tips & Tricks • Tips & Tricks • Tips & Tricks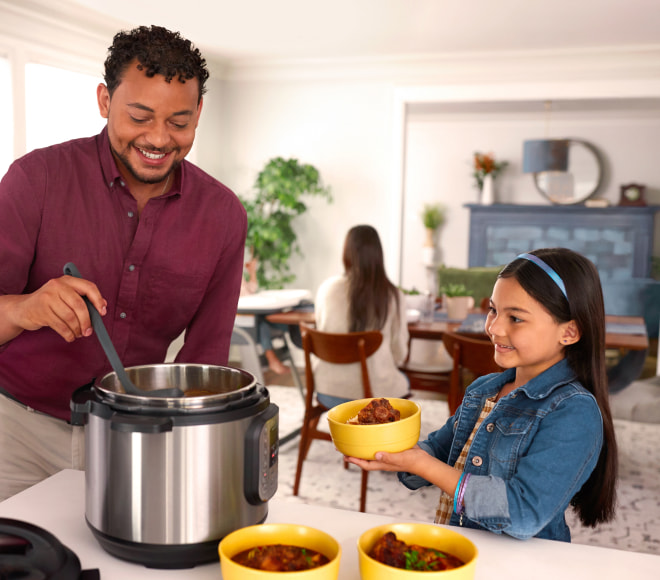 Time Saving Tips & Tricks
On busy weeknights, when everyone is hungry from a long day, it's important to get dinner on the table fast. Here are a few ways you can cut down on prep time for soups and stews.
Simplify vegetable prep. Use a multipurpose food chopper to quickly chop onions, peppers and tomatoes, slice vegetables and dice fruit and cheese. Prep extra and store in containers to use throughout the week.
Separate garlic bulb into cloves. Trim the tips. Use the back side of a knife to gently crush each garlic clove with the heel of your hand. The cloves pop out of their skins for quick and easy chopping.
Microwave limes, lemons or oranges for 15 seconds before squeezing to release all the juice from the citrus pulp. Slice fruit lengthwise and use a hand reamer to juice. More juice with less effort.
Stock your pantry with time saving prepared spice blends such as pico de gallo seasoning mix, bottled marinades such as mojo criolla, and cooking sauces such as recaito cilantro sauce to speed up dinner prep with less ingredients.
Take the stress out of preparing weeknight dinners by shifting the lengthy time needed to prepare time consuming recipes to the weekend with make ahead meal prep. Stock up on good quality food storage containers with tight fitting lids for storing meal prep in the freezer.
Make quick work of the tedious process of skimming fat off soups, stews, and stocks with a fat separator. Designed to drain liquids such as beef bone broth while retaining the fat, this handy tool makes it easy to eat healthier.
Cook it once; serve it twice. Make a double batch recipe for dinner, then package half in containers for later in the week. Yesterday's red chile braised beef shanks make tonight's shredded beef quesadillas!
Thinner sliced cuts of meat speed up the cooking process so everyone can sit down to dinner faster. Simply season meat such as thin sliced chuck steak and pan sear. Serve with simple sides such as a packaged salad blend, rice and beans or vegetable blend.