How to Prepare and Cook Beef Cheek Meat
Beef cheeks are delectable cuts of meat that are prominently featured in Mexican cuisine. The best-tasting beef cheeks undergo slow cooking to release the meat's natural, rich beefy flavor and achieve melt-in-your-mouth tenderness.
Would you like to learn how to cook beef cheek meat that tastes sublime? If so, keep reading to discover the secrets to making delicious, traditional Hispanic beef cheek dishes at home.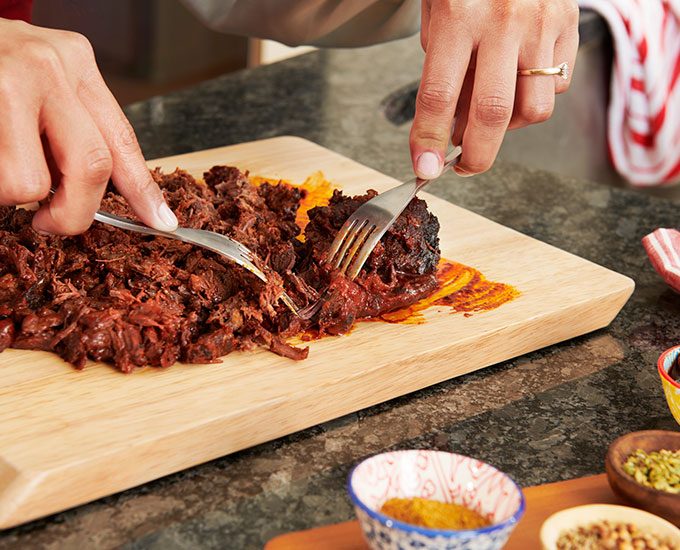 What Are Beef Cheeks?
Beef cheeks (cachete de res in Hispanic recipes) are cuts of meat from, you guessed it, the cheek muscles.
The tender meat is an excellent choice for making various appetizers, stews, soups, sandwiches, and main dishes. Several traditional and modern Mexican recipes, such as, birria and barbacoa, also use the meat.
Even better, beef cheeks contain lots of collagen. The collagen turns to gelatin when slow-cooked and makes the meat moist and succulent. Besides having a delectably tender mouthfeel, beef cheek has a rich beefy flavor that you can enhance by braising the meat in a broth. Note that the exact type of broth and seasonings you use during cooking will influence the taste of your beef cheek meat.
How to Best Prepare Beef Cheek
Beef cheek meat is a delicacy, but you do not have to go to an expensive restaurant to enjoy it. Follow the below tips to learn how to prepare beef cheek at home:
Tip #1
If your recipe requires it, cut each beef cheek into smaller pieces. If you'd like, you can enhance the flavor and appearance of the beef cheeks by browning them in a skillet.
Place the cheek meat in a pot and add enough water, beef broth, or stock to cover the meat. Add garlic, onions, red chile peppers, and spices like cumin and Mexican oregano for traditional flavor.
Place your pot on the stovetop and put it on high flame. Once the pot starts boiling, turn the heat down to low and let the meat simmer until it is fall-apart tender. Cook time is about three hours, but depends on the size of your cheek meat. In addition to stovetop preparation, you can slow-cook your beef cheeks in an oven or slow cooker.
Tip #2
On busy days when you don't have time to slow cook beef cheeks, speed up the cooking process by using an instant pot or pressure cooker. Using the high heat setting on an instant pot, you can get tender beef cheeks in under an hour.
Place the beef cheeks in the pot. Add broth and your preferred spices, then seal the lid. Turn on the instant pot and cook under high pressure for 50 minutes with natural release, until the beef cheek meat internal temperature reaches 160 degrees Fahrenheit as measured by a meat thermometer. Click here for a great instant pot beef cheek recipe!
Tip #3
One of the most popular Mexican dishes made with beef cheeks is birria. The dish requires cooking well-seasoned beef cheeks in a slow cooker set on low heat overnight or all day.
The crave-worthy recipe delivers tender, shredded cheek meat soaked in a rich, brothy chile sauce. You can serve the meat in folded tacos and use the sauce for indulgent dunking. Check out the Birria by Petia Mitchell recipe to learn how to cook beef cheek birria at home.
Tip #4
Another famous beef cheek recipe is beef barbacoa. Make tacos de barbacoa at home by placing beef cheek meat, traditional Mexican spices wrapped in cheesecloth, onion, and California pepper in a slow cooker.
Submerge the meat with water and 2 tablespoons vinegar and cook low and slow for eight to ten hours. You should have flavorful, fall-apart tender meat by the end of your cook time. Using tongs, transfer your cooked beef cheek meat to a plate, and shred the meat with two forks. Place the shredded meat back in the slow cooker beef juices and let it simmer until it absorbs more of the sauce.
You can use the juicy barbacoa meat to fill in tacos, burritos, enchiladas, or tostadas. Check out our full Tacos de Barbacoa recipe here or explore more delicious beef cheek meat recipes.
Experience the Unique Flavors of Mexican Beef Cheek Dishes
If you want highly flavorful meat, you cannot go wrong with beef cheeks. Use these tips to make your favorite beef cheek recipes at home. Visit Rumba Meats today to find where to buy beef cheeks in a store near you.
Find Your Faves
Get the cuts you crave at a store near you.